Info, Tutorials and How To Guides
Tag Archives: contest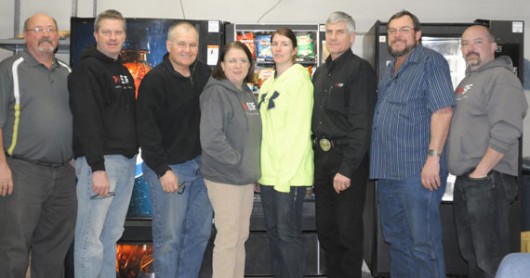 February 28th concluded SJF's 2 month Fit as a Fiddle contest.
11 eager and motivated participants entered, but in the end the overall results were mixed. Five individuals lost a total of 65 lbs. while 6 hapless souls actually gained weight. (Really??)
On Feb 28th, Marty Zitzloff was officially announced the big winner. Marty managed to shed a very impressive 22 lbs!
Marty generously purchased Subway sandwich gift cards for all the participants from his winnings. (What a guy!)
A special shout out has to be given to Rhonda Remer for spear-heading the contest. Rhonda set the ground rules, collected money, attended the weigh-ins, calibrated the scales, and also policed any and all attempted cheating.
Thanks to everyone who ponied up and participated.
We're looking forward to posting another challenge soon.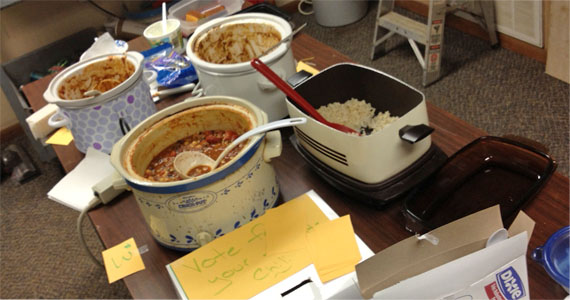 The SJF chili competition was a big success! We had three entrants this time around. Lori Foster brought a red chili made with mostly home-grown ingredients. Vance Haugen entered a delicious red chili, and Craig Fasching brought another small pot of excellent red. Kent Powell brought home-made corn bread to compliment all of the entries. 'Fixins were provided by SJF.
After all of the chili was tasted, the final vote count was as follows:
Vance Haugen: 9
Lori Foster: 4
Craig Fasching: 3
Making Vance the winner (…this time).
Congratulations Vance.
An Addendum: There were to be four entries in the contest this year, however one of the entries made it only as far as the front door of SJF. A certain owner of the company (his first name rhymes with Tank) forgot about the tupperware bowl full of chili in his briefcase. As he entered the building, briefcase in hand, he wondered aloud what smelled like chili before realizing that it was the entire contents of his bag.