Info, Tutorials and How To Guides
Tag Archives: Drive In Rack
SJF Material Handling, partnering with David Weidenfeller at Interlake Mecalux and Mike Pemrick at Lock N Load Installations, replaced an older pre-existing drive-in system at Triple J Family Farms. Despite working in a cooler, the Lock N Load crew was able to complete the job within a day.
Jason Deiter, sales professional at SJF can be reached at 320.485.4961 directly, or at jdeiter@sjf.com.
Though the weather is grown cold (-10 at the time of this writing) and the blog has been a little dormant – rest assured, dear readers that behind the scenes we are very busy at SJF.  December has seen a massive influx of pallet rack, drive-in rack systems, and complete conveyor systems for sale.  SJF currently has over 10,000 beams and 1,000 good quality uprights available for immediate sale in our Winsted, MN inventory.
Continue reading
This month saw the start of a large project for a customer of ours in Maryland.  This involves taking down two warehouses of rack, and installing new rack in one warehouse.  Crews showed up on site last week to start dismantle and install.  The first warehouse is coming down now, and we are pricing this material to move fast!  This warehouse consists of a large Hiline Drive In system with specs as follows:
3 Deep x Floor+2 288pp                            $25/pp
3 Deep Back to Back x Floor+2 540pp    $25/pp
3 Deep x Foor+2 270pp                              $25/pp
3 Deep Back to Back x Floor+2 540pp    $25/pp
3 Deep Back to Back x Floor+2 504pp    $30/pp
3 Deep x Floor+2 270pp                             $30/pp
3 Deep x Floor+2 252pp                             $30/pp
The exact specs and pictures are all available, email support@sjf.com or visit SJF's Drive-in Rack Page for more photos/details.
There is also a large amount of Hiline selective rack available as well (at this time, please email samsterner@sjf.com for details).  All material is priced to move right away!
Upright 17'x42" 157 available $55ea
Upright 16'3"x42" 67 available $55ea
Upright 15'x42" 79 available $50ea
Upright 12'x42" 30 available $40ea
Beams 57"x3.5" 448 available $7ea
Beams 96"x3.5" 1,818 available $14ea
The last remaining warehouse is just up the road, and is loaded with prime sizes of like new Teardrop racking.  That warehouse will be coming down next month, after this listed material is down.  Keep checking back for more details on this rack project's progress.
The end of April/beginning of May has been a busy time here at SJF.  The last month has brought in equipment from across the board, including conveyor, pallet rack, rack systems, and cantilever.  April started out with a string of local buys.  A large retail store closed multiple locations across the Minneapolis metro, and we were able to jump on some great condition conveyor.  This includes 8 Best Flex conveyors and 500ft of 18" Skate-wheel conveyor as well.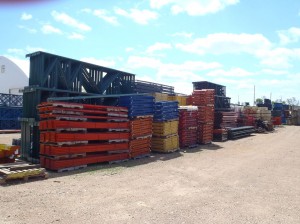 We were very fortunate to have access to a variety of systems lately, and many came into our yard for stock.  Systems brought in this month include the following drive-in rack and push-back rack systems:
3 Deep Back-to-back Ridg-U-Rak Drive In
5 Deep Ridg-U-Rak Drive In
3 Deep Structural Drive In
3 Deep Interlake Push Back
4 Deep Interlake Push Back
3 Deep Advance Push Back
6 Deep Advance Push Back
Needless to say, we are loaded with rack systems!  These are in great shape, and all are in stock now in Minnesota.
Continue reading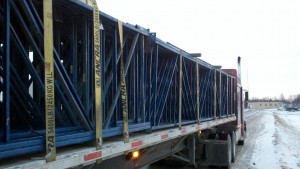 The last two weeks started with a 14 hour day in Worthington, MN.  SJF recently purchased 540 pallet positions of Drive-in-Rack from a company located there.  Sam Sterner headed down in the morning to assist in the final teardown, banding, and loading of the components.  This is truck 1/2 for the day leaving loaded with uprights and rails for the system, headed straight to a customer in Fargo, ND.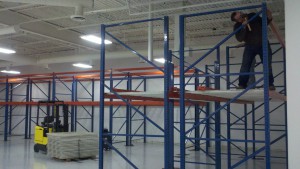 The Worthington, MN shipment occurred on Wednesday, December 14.  Friday, December 16 and the following Monday were spent in Plymouth, MN installing pallet rack for a new Polaris Industries showroom.  The rack was set to allow display of ATVs and accessories for sale.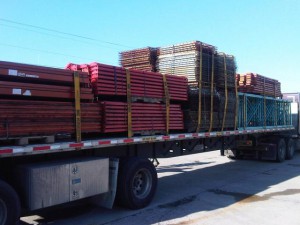 The week of 12/19 also had the arrival of several trucks from a recent purchase in Jeffersonville, Indiana.  These trucks came loaded with rack now available in stock in Winsted, MN.  A brief list includes-
48"x20′ Speedrack Uprights – 204 ea
108"x4" Speedrack Beams – 621 ea
96"x4" Speedrack Beams – 528 ea
48"x 20′  Teardrop Uprights – 40 ea
48"x52" Wire Deck – 653 ea
48"x46" Wire Deck – 747 ea
Many other items including many sizes Speed Rack uprights and beams, Teardrop Rack Uprights and beams, Sturdi-built, Palmer Shile, Ridge U Rack uprights and beams, and many other sizes of wire decking.  Call an SJF sales representative for more details!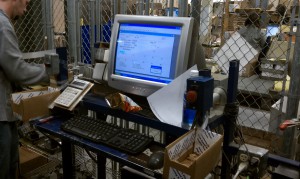 The recent weeks also included the testing for SJF's carousel software. The first run through should be up and running soon for our first customer here in the Twin Cities metro!  This is an exciting new venture in carousel controls, and can drastically improve efficiency in your carousel system.  The best part, it works with any and every carousel. Contact us today with more information on this new product!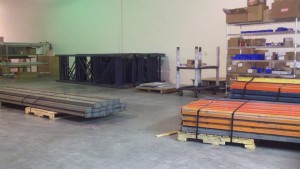 Four days before Christmas, Sam Sterner headed to Rogers, MN to band up another recent purchase of Sturdibuilt pallet rack.  This included 144"x6" and 144"x3.5" Sturdi-Built beams, 48"x10′ Sturdi-Built uprights, and 144"x5" Teardrop beams.  These were brought right down the road to our stock in Winsted, MN.  These are very nice, heavy duty beams available now!
The month of January looks to be just as busy for us here at SJF.  Already in the works is truckloads of conveyor leaving Phoenix, AZ; three carousels we purchased in the Twin Cities; a large warehouse full of structural racking in Ohio; and many more projects around the country, so stay tuned!
High Density Storage Racking Guide
While this guide is meant to assist you in choosing your rack, it is still beneficial to consult with one of our professional solutions specialists. They have been working with this material every day for years and are aware of ALL the tips and tricks concerning drive-in, drive-thru and push back racks. Please feel free to call us at 800-598-5532 to discuss your planned layout.
Drive-In & Drive-Through Rack
Traditional pallet rack is a great solution for many warehouses, but if you have a lot of inventory that shifts on a regular basis, drive in rack or drive through rack is a storage solution you may want to consider. While traditional static rack storage allows for many rows of pallet racking with aisles between the individual rows, drive in and drive thru racking allows for a much denser arrangement of your stored product. Both drive-in and drive through rack systems allow more efficient use of available space than traditional multi-aisle selective racks systems. In fact, when compared to a conventional selective rack system, the same amount of storage can be achieved with a high density drive in or drive thru system in 80% less space.
High density storage racks work by utilizing standard pallet rack uprights in conjunction with rail beams or more simply, rails to store the pallet loads in a very dense configuration. The key difference between these racks and selective pallet racks is that the forklift truck operates inside of the rack itself and there are no specified lanes between the rows. The forklifts enter into the individual bays of the rack and the bays themselves can be as long or as short as needed.
Drive in rack and Drive through rack systems decrease storage and retrieval time while increasing efficiency and productivity among workers. Not only do they benefit your operations, they can also decrease your bottom line by giving you more storage room per dollar spent on racking. Because these racks create a more uniform load in a confined storage area, your forklift operators working in the system become more skillful drivers. In addition to these benefits, consider this – drive-in & drive-thru systems are very energy efficient. Since the product is so densly loaded in this type of system, there is less air to be heated or cooled between your pallets and your forklifts don't need to drive as far to pick or place loads thereby using less fuel.
Get your free warehouse rack guides in a handy "Grab & Go" format.  These highly useful, illustrated Warehouse Rack Guides are now available for immediate download to your computer.  You'll learn lots of information on…
How to properly size warehouse racks
Proper usage of racking
Types & styles of racking
Useful Terminology
This article from Material Handling Management Online describes some of the features and benefits of Ridg-U-Rak's Drive in Rack Style.
Ridg-U-Rak's drive-in storage rack systems store product on continuous rails. Lift trucks directly enter the rack structure to place and retrieve pallets.
Continue Reading the article at Material Handling Management Online.