Info, Tutorials and How To Guides
Tag Archives: featured client
SJF Supports Edina High School Marching Band Uniforms… Literally
There are many, many ways to use different types of racking for storage in all kinds of environments. Here you see how Edina High School set up their storage area for the Marching Band uniforms and props.
Soul Flower was founded in 1999 by Mike and Peggy as a way to promote a bohemian, eco-friendly, and peaceful lifestyle. Our little shop on Grand Avenue in Saint Paul, Minnesota was a gathering place for college students and locals looking for 'cool threads for kind heads'. Since those days, Soul Flower has made a few changes… they no longer have a retail store, but have expanded with a digital catalog, an online retail shop, a wholesale catalog, and a screen printing team. One thing that hasn't changed is our dedication to offering our customers thoughtful, eco-friendly clothing styles at an affordable price – and of course the best customer service anywhere!
In 2014, Soul Flower contacted Eric Moen at SJF to assist in a new addition to their expanding warehouse, and he was happy to oblige.
Advantage Sign and Graphic Solutions, a national leader in the sign and graphics industry for over 20 years, has been a client of SJF's since 2011.  Recently, they went though a building expansion in one of their eleven national locations, and called on SJF for a quick turnaround to meet their needs.  Advantage Sign and Graphic Solutions is a top rated website with over 400 ratings and a 5 star rating.  This project and material was coordinated by Jason Deiter at SJF.  He can be reached at jdeiter@sjf.com.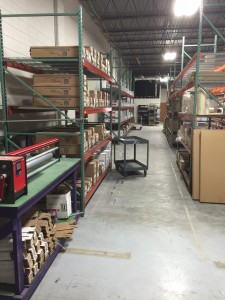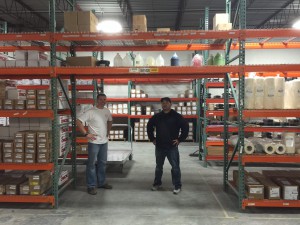 Excel Industries is a leading manufacturer of turf care products.  Excel Industries produces the Hustler Turf Equipment and BigDog Mower Company product lines in their single production facility in Hesston, Kansas.  As the producers of the first zero-turn mower in 1964, Excel Industries has a long history of turf equipment experience.  In late 2012 Excel Industries entered into the mass market arena with the introduction of the Raptor product line.
Maglio Minnesota is an approximately 25,000sq.ft. produce wholesale facility located in Oakdale, MN. Maglio Minnesota, specializes in receiving raw produce from growers throughout the country and sanitizing, sorting, and packing that produce into finished usable product for customers and consumers.
Vance Haugen was initially called out to Maglio to take a look at one of their cooling rooms.  They wanted to look at expanding available storage space to manage the increasing number of product that they needed to store. Vance informed them about a new flow rack product we carry (ExGlobe High Density Horizontal Flow Rail) and they expressed some interest.  The manufacturer's rep accompanied Vance on another meeting and Maglio liked the product.
Continue reading
Metro Mold and Design (MMD) is a Rogers, MN based, one stop shop for rapid mold manufacturing, custom plastic injection molding, thermoset plastic molding, extrusion blow molding, and precision CNC machining.  With an expanding operation, they contacted SJF in the fall of 2013 to assist in a layout and move into an new shipping warehouse.  MMD was at the time occupying and older warehouse with little lighting and low ceiling, and was planning a move to a newer building with a 32′ ceiling.
The plan was to install very narrow aisle (VNA) rack to max out warehouse space in the new building.  After discussing it with SJF, MMD decided on a different plan altogether.
Continue reading
PUTCO is a world leader in Automotive Accessories such as Trim, Lighting, Mud Flaps and Step Bars.  Putco has literally thousands of products for all major makes and models of car and truck available in a nationwide dealer network. If you're looking to spice up your ride, look no further than Putco.
When Putco contacted SJF, they were looking for a lot of racking at a savings. They needed to fill a new 127,000 sq. ft. facility so used equipment was definitely on their radar. SJF had just secured two large used inventories that could have filled PUTCO's needs but with new pricing being very competitive and not subject to availability issues, they turned to new. SJF supplied new Mecalux Interlake Pallet Racks and MECO Cantilever racks as well as the installation while meeting PUTCO's timeline and pricing requirements. Jason Deiter was the solutions specialist on this project.
Continue reading
Uponor is one of the world leaders in the production and development of plastic pipe systems.  With production units in Europe, Southeast Asia and North America, Uponor serves clients world wide providing radiant heating and fire safety systems for both commercial and residential use.
Over the last few months, Rhonda Remer has helped them procure multiple overhead air doors for use in their warehouses. This branch of Uponor is located in Mississauga, Ontario Canada and is just one of SJF's many Canadian customers.  We're glad we could help them keep out the cold Canadian air this winter!
Continue reading