Info, Tutorials and How To Guides
Tag Archives: interlake
In this short video tutorial, Eric Moen covers some of the many sizes and capacities of pallet rack uprights available via SJF's 48-hour quick-ship program.
UPDATE – 3/26
The New Jersey Rack System is currently shipping to our Winsted, MN headquarters.  Many thousands of beams, uprights & rack accessories are available right now for shipment to your facility!
Call 800-598-5532 with inquiries about this pallet rack.
——————————-
Just Purchased – 3 Nice, Clean Pallet Rack Systems!
These are large systems of teardrop pallet racking – FOB NJ, NE and KS.
These systems represent quantities in excess of 9000 ea. 96″ Beams and 1500 Uprights (36″, 42″ & 44″D).  Styles include both Teardrop and T-Bolt.  These popular racks will not last long, and we encourage anybody interested to get them now before we have to freight them back to our central MN location.
Pallet Rack & Gravity Conveyor Liquidation
We recently just finished shipping to MN material from liquidation of a large distribution center in Indiana. In all, 15 trucks of material were shipped up to our facility in Winsted, MN from the Indianapolis area. We had to jump at this opportunity with how fast gravity conveyor has been leaving our facility lately. This was a perfect opportunity to bring up our inventory as this purchase brought in over 6,000ft of gravity in 24" and 30" widths. There is also a small quantity of pallet gravity conveyor. All in all, the totals of this most recent purchase ended up being:
5,470 ft – 30″ Gravity Conveyor
780 ft – 24″ Gravity Conveyor
1,400 ft – 9″ Pallet Gravity Conveyor
Gravity Conveyor Photos & Pricing
591 ea. – 36″ x 22′ Interlake Uprights
4,480 ea. – 108″ x 4″ New Style Beams
Interlake Rack Photos & Pricing
All of this material has been transported back to our Winsted, MN facility and is ready for immediate shipment to your location.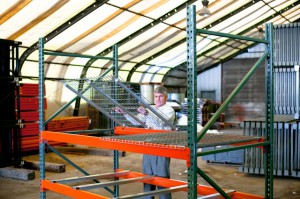 SJF Material Handling Inc. in Winsted MN. has announced the release of its "Best Price Guarantee" promotion on all pallet rack products now offered in it's online store during the month of January 2011. View SJF online at https://www.sjf.com. In business since 1979, SJF is a premier stocking distributor of Meculux / Interlake pallet rack and tear drop style pallet and storage rack products & systems. SJF Material Handling carries the Nation's largest inventory of new & used material handling products. A nationwide distributor of material handling products for over 30 years. SJF's e-store provides online shoppers looking to purchase material handling equipment online with a safe and secure online payment capability utilizing Verisign encryption technologies for credit card payment processing with both Visa and Mastercard.
NAPERVILLE, Ill.—Interlake Material Handling, a large long time  manufacturer of steel storage racks and a division of United Fixtures, has filed for Chapter 11 bankruptcy.
The news was reported by a  newspaper in Sumter, S.C. The newspaper quoted  a company manager who said the filing was a preemptive measure that would allow the company to restructure.
"This is not a liquidation," Jones said. "The biggest advantage to us is that it allows us to restructure our debt. It will allow us to obtain working capital in order to continue our operations and put us in a better position to be acquired by another company."
Although there is no word yet about a final deal, Interlake is reportedly in talks with a potential buyer. "We have a buyer with a very strong balance sheet," said Jones. "The sale has not been finalized yet, however."
Jones also said the bankruptcy will not lead to a closure of the Sumter plant and predicted a bright future for Interlake in Sumter, S.C.
"This is a very positive thing for us," he says. "If bankruptcy can be seen in a positive light, this definitely is. And, while I can't speak for the future, especially if the company is purchased, at this time, we have no plans for further reductions in personnel."
Yesterday, the bankruptcy court entered an order approving bidding procedures for substantially all of the assets of Interlake Material Handling, Inc. and its affiliates.  The court also approved the proposed break-up fee and expense reimbursement for the stalking horse bidders for the assets, Mecalux USA, Inc. and Mecalux Mexico S.A. de C.V., which would be paid in the event that those parties are not the winning bidders for the assets at the conclusion of the bidding process.
The order attaches the approved procedures for other parties to provide competing bids for the assets.  In the event that qualified competing bids are received, an auction is scheduled to be held on March 4, 2009 in Wilmington, Delaware.  Source: netDockets Corporate Restructuring and Bankruptcy Blog