Info, Tutorials and How To Guides
Tag Archives: metal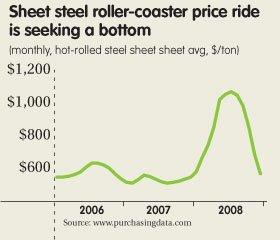 Steel buyers aren't showing much enthusiasm for early 2009, according to a poll by Purchasing magazine, since incoming customer orders are down, manufacturing operations are depressed and prices on all raw materials have been collapsing. Though more optimistic than in November, buyers are entering the New Year with little enthusiasm about first-quarter demand or flat-rolled product–even with expectations of lower transaction prices than the December averages of $634 for hot-rolled sheet, $736 for cold-rolled sheet and $757 for hot-dip galvanized.
Reason: "The U.S. economy remains firmly locked in a deep recession that will be difficult to emerge from in the months ahead," which will keep steel demand depressed, says Scott Anderson, the senior economist at Wells Fargo Economics in Minneapolis. "Consumer confidence is getting totally swamped by a rapidly deteriorating labor market and plunging housing and stock market wealth," which will keep sales of steel-bearing products depressed.
Analyst John Anton at IHS Global Insight's offices in Washington says that "fear has descended onto the steel market, with prices seizing for many products." He believes the demand side is weak in preparation of a long recession and that has been stronger than the fourth quarter supply-side reduction in production to less than 50% of capacity.
Mills have cut production but buyers have reduced purchasing more
"There is some credence to the fears on the demand side," says Anton, noting that "the downturn will be severe and there will be little recovery in North American sheet end-markets of housing, appliances and automotive, which are at the lowest levels in decades." Anton says this end-use weakness will persist through 2009.
In December, the purchase price average for benchmark hot-rolled sheet in coil was 47% below the cyclical peak of $1,068 in July while cold-rolled sheet in coil dropped by 42%. And there was December price slippage also evident for coated sheet, plate products, rods, light structurals and most bar grades. Stainless steel prices also dipped at year's end. And the slide isn't over yet.
In fact, according to sheet steel buyers polled in December, early delivered prices for January averaged $525 for hot-rolled and $628 for cold-rolled. The survey also shows that only 16% of the steel buyers plan to increase purchasing even at reduced prices, though that's higher than the 12% reporting plans to increase buying in November. "There aren't that many orders out there, especially at this time of year," a Midwest service center source tells the American Metal Market subscription newspaper. "The holidays are always slow, but with everything that has happened (related to the global credit crisis), things are even slower."
Source:  Tom Stundza- Purchasing.com
US scrap prices, which have decreased significantly since August, seem to have finally bottomed out this month.
Many scrap dealers believed that the scrap transactions that took place in the beginning of November were settled at prices that were too low, and with an up-tick in export activities also observed in the first days of November, US shredded scrap prices started to rebound.
Busheling and HMS I scrap prices have not moved considerably since the beginning of the month, but a few scrap dealers in the Midwest report that their domestic shredded scrap prices now range from $210 to $220 /lt. This price reflects an increase of $85 /lt since the beginning of November.
However, the export market has started to slow again as scrap demand is generally still very low due to the weak finished product markets.
But despite the recent slowdown in export activity and continued weakness in the finished product markets around the world, market sources expect that scrap prices will be higher in December than in early November. December is a short month in terms of scrap transactions, with many companies closed for the holidays; however, since the scrap inventories for the integrated mills are low, they will need to make purchases during the month in question in order to make sure they have enough inventory to last them through the winter.
In December, both domestic busheling and shredded prices are expected to move up by $80 to $90 /lt while HMS I may increase by $40 to $50 /lt from the prices in the beginning of November. At the beginning of November, US East Coast busheling scrap prices were ranging from $140 to $150 /lt. Shredded scrap was sold for $125 to $135 /lt and HMS I prices ranged from $100 to $110 /lt.
On the export side, scrap prices have already shown a considerable up-tick since the beginning of November. The most recent export deal concluded for HMS I/II 80:20 is $278 /mt CFR Turkey, while prices were concluded at $160 /mt to $170 /mt CFR Turkey at the beginning of the month.
US mill margins 'historically huge' as scrap prices languish
Dramatic falls in US scrap prices but continuing high operating margins amongst steelmakers have defused the assertion made just few months ago by the American Scrap Coalition that high US steel prices were caused by high US scrap prices, Blake Kelley of Sims Metal Management told the Bureau of International Recycling (BIR) convention in Düsseldorf last week.
Kelley drew attention to how currently published rolled steel prices of many US mills, and much reduced scrap prices "still allow historically huge operating margins," citing one published example of a $660/gross ton difference between a just reduced rebar price and scrap purchase costs. He noted that such a margin "presupposes that the true steel sale price is as published, and also suggests any earlier made unfilled scrap purchase contracts were cancelled."
Courtesy: Steel Business Briefing
Reference Prices for the week ending June 29th look like this:
Hot rolled coil – prices up $15 per ton ($.75/cwt) to $1,089 per ton($54.45/cwt).  Over the past four weeks HR coil has increased $2 per ton ($.10/cwt) or 0.2%.
Cold rolled coil – prices went down $4 per ton ($.20/cwt) to $1,155 per ton ($57.75/cwt).  Over the past four weeks CR coil has decreased $16 per ton ($.80/cwt) or -1.4%.
Galvanized coil – prices remained flat (no change) this past week and remain at $1,221 per ton ($61.05/cwt) for .060 X 48″ G90 CS/B. A note here – The Steel Index is showing galvanized coil in Turkey to now sell for $66.25/cwt in their domestic market or, +$5.20/cwt higher than here in the U.S.
Stock Levels in North America showed a significant increase from the previous week.  35% of the respondents are now reporting "increased" inventory vs. only 15% last week.
Steel Demand Outlook for the Next Three Months in North America showed a significant move towards "decreasing" or "strongly decreasing" demand.  Close to 60% of the respondents believe demand will decrease.  Of all respondents only 10% forecast an increase in demand.
Delivery Lead Times -shot up on Cold Rolled to 8.0 weeks – which leads me to believe last week's number was incorrect (6.5 weeks).  Hot Rolled remained about the same at 6.0 weeks and Galvanized moved from 7.6 to8.6 weeks – this number will need to be reviewed again next week as galvanized lead times have been averaging in the 7 week lead time for a number of weeks and I find it hard to believe in the current market galvanized lead times are starting to extend.  (Source: The Steel Index)
Record US steel prices, driven by soaring input costs, are unlikely to go down anytime soon, the heads of five high-profile steel and raw materials producers say.
Speaking during a round table discussion Monday at the joint meeting of the American Iron and Steel Institute and the Metals Service Center Institute, attended by Steel Business Briefing, the executives were in agreement that increasing global demand for raw materials and steel are making for volatile times for their customers.
Information courtesy of of Steel Business Briefing [https://www.steelbb.com/]
April 25, 2008 – Today saw steel prices soar to record highs as a report released by world steel producers confirmed worries that current production has failed to keep pace with world demand. One industry official, who did not wish to be named, expects the panic buying to continue and noted that "for the past decade, prices of scrap steel fluctuated between $50-$80 USD/ton." Late last year, that price doubled to $150 -$200 USD/ton. By March 2008 it doubled again to $345USD.
Today's surge to $865 USD/ton reflects a depletion of steel reserves to historic lows and the inability to increase production to keep pace with world demand." One economist today noted that steel at these price levels will have a devastating effect on consumers worldwide. The world's economies are built on steel. Without it, the machine breaks down. Right now there simply isn't enough to go around.
Where will it stop?Nobody seems to know.After today's activity, many feel certain that more increases are ahead.How high will it go?
Rising steel prices may cause more problems than fuel.
Back in 2006, the price of steel went a little bit crazy for about a month. Base prices, discounts and surcharges all fluctuated weekly – even daily. In the end, contracts were not honored and customers were charged whatever the market would bear on the day of delivery. Scrap, which had sold for 60 dollars a ton back when gas was $1.50 a gallon, was going for 150 to 200 dollars a ton depending on location.
Then things normalized. Prices went down a little and stayed more or less stable. There was some speculation for a while about whether the claimed shortages were real or the steel companies were just being greedy, but generally the whole incident was gladly forgotten. Well I hate to be the bearer of bad news, but the elements are in place for real shortages and even more drastic – even catastrophic – price increases.