Info, Tutorials and How To Guides
Tag Archives: pallet flow
Maximum Density Flow Rail is designed to provide all of the benefits of traditional high-density pallet racking (drive-in, push-back, pallet flow) with none of the drawbacks. This flow rail system can easily store pallets up to 10 Deep!
Here are just a few of the benefits a maximum density flow rail system can provide you.
Can be installed/retrofitted on most existing racks & drive-in rack systems
No power necessary – No motors to maintain or batteries to charge.
No incline necessary – Not gravity feed. No rail incline needed.
Can be operated with a fork truck to store & retrieve pallets
Rails are Horizontal – Not angled or gravity fed
No flow rail brakes to adjust or troubleshoot
Each lane can hold a different product SKU
Rail is Maintenance Free and Rust Proof!
Can be used in low temperature environments
Easy to modify track length
Read more about this revolutionary new system & view photos and videos of its operation on our website.
SJF has just uploaded a new video to our YouTube channel. (SJF's YouTube Channel)
This video shows a test in our shop of a pallet flow rail system with brakes.  As the video starts, you can see two large containers moving down the roller tracks in a controlled descent.
View pallet flow racks currently available for sale on SJF.com
Retrofit a static pallet rack system into a dynamic gravity fed system with pallet flow rail.  SJF currently has thousands of flow rails featuring both steel and poly wheel rollers in single and dual wheel configurations.  Brakes and End Stops are also available.
Find rail lengths from 90″ – 201″.  Many options available for all applications.
Call an SJF Sales Specialist [800-598-5532] for more information, current pricing and availability.
The previous two weeks once again saw truckloads of new equipment coming into the yard here at SJF.  It started with Dave Kieper and Sam Sterner taking down conveyor previously sold by us.  One advantage to buying used is the high chance of selling the equipment right back when changing the facility!  In and out in two days only, and there is now over 150′ of great shape used Ermanco Lineshaft conveyor in stock here in Winsted.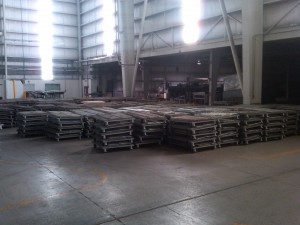 Wire baskets have been a hot commodity upstairs in the Sales room lately at SJF, so we could not pass up the opportunity to purchase over 900 barely used collapsible wire baskets from California late last week.  These should be arriving here in Minnesota any day now.
If ever given the opportunity to purchase some great shape, heavy duty beams, we never pass it up.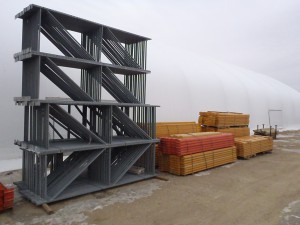 These Keystone style beams recently came in from the East coast.  We even hired a different crew out there to do the banding and loading work for this purchase, and couldn't be any happier with the results.  All in all it was a great buy working with great people.
This pallet flow rail came through and had us drooling here at SJF.  It looks like the rail is new and never used.  We jumped on this immediately and had it sent straight here all the way from South Carolina.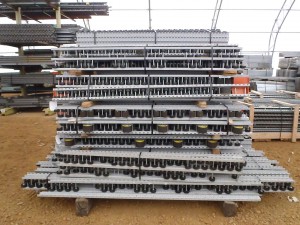 This carousel is almost an exact match to that we purchased last week.  Located right here in the Twin Cities, we couldn't say no.  This carousel is in absolutely pristine condition, and we look forward to receiving it in early March.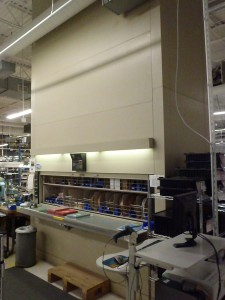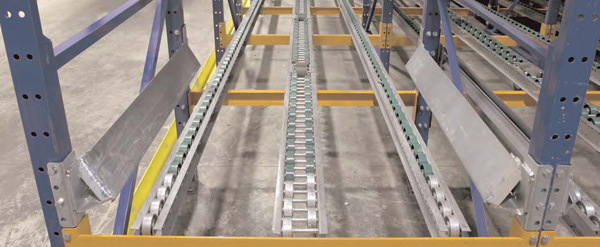 SJF has just added Pallet Flow rail to our online store.  This flow rail from 3D Storage systems is the perfect product if you're looking to transform your static pallet racking into a more dynamic system.  Choose from either steel wheel pallet flow or poly wheel pallet flow rails in both single and dual staggered wheel configurations.
High Density Storage Racking Guide
While this guide is meant to assist you in choosing your rack, it is still beneficial to consult with one of our professional solutions specialists. They have been working with this material every day for years and are aware of ALL the tips and tricks concerning drive-in, drive-thru and push back racks. Please feel free to call us at 800-598-5532 to discuss your planned layout.
Drive-In & Drive-Through Rack
Traditional pallet rack is a great solution for many warehouses, but if you have a lot of inventory that shifts on a regular basis, drive in rack or drive through rack is a storage solution you may want to consider. While traditional static rack storage allows for many rows of pallet racking with aisles between the individual rows, drive in and drive thru racking allows for a much denser arrangement of your stored product. Both drive-in and drive through rack systems allow more efficient use of available space than traditional multi-aisle selective racks systems. In fact, when compared to a conventional selective rack system, the same amount of storage can be achieved with a high density drive in or drive thru system in 80% less space.
High density storage racks work by utilizing standard pallet rack uprights in conjunction with rail beams or more simply, rails to store the pallet loads in a very dense configuration. The key difference between these racks and selective pallet racks is that the forklift truck operates inside of the rack itself and there are no specified lanes between the rows. The forklifts enter into the individual bays of the rack and the bays themselves can be as long or as short as needed.
Drive in rack and Drive through rack systems decrease storage and retrieval time while increasing efficiency and productivity among workers. Not only do they benefit your operations, they can also decrease your bottom line by giving you more storage room per dollar spent on racking. Because these racks create a more uniform load in a confined storage area, your forklift operators working in the system become more skillful drivers. In addition to these benefits, consider this – drive-in & drive-thru systems are very energy efficient. Since the product is so densly loaded in this type of system, there is less air to be heated or cooled between your pallets and your forklifts don't need to drive as far to pick or place loads thereby using less fuel.