Info, Tutorials and How To Guides
Tag Archives: prices
An index compiled by Management Science Associates (MSA) shows significant price increases in August for two of the three grades it tracks.
On average, MSA's RMDAS (Raw Material Data Aggregation Service) shows prices changing from July(on a delivered-mill basis) by as little as a $3/long ton decrease, to as much as a $28/l.t increase.
Should you cut your prices to increase sales  during a recession?
Let's Check the Math
FACT: If you cut prices by 20%, you have to sell 25% more units just to maintain revenue(break even).
During good times, a 25% increase in sales volume is asking a lot.  In a recession, the math says it's self induced suicide for almost all who try.
Over the past week, the Chinese scrap market saw a slight rising trend, with a further ascension expected in the coming period against the tight availability of scrap supply. However, the relatively soft performance lately observed in the finished steel market is likely to exert a significant impact on the scrap market
Source: SteelOrbis Shanghai  – For the latest in steel news & trends subscribe to SteelOrbis News at http://www.steelorbis.com
With US shredded scrap prices dropping by up to  $30/long ton this month, there is a very good chance that US rebar prices will fall right along with them.
Given the ongoing weak demand in the US rebar market, it is quite likely that this time, domestic mills may opt to  lower rebar prices in step with the decreases in scrap.
Meanwhile, Turkish mills are still pretty hungry for business and they are seeing falling scrap costs as well. However, if US prices do come down another notch as expected, Mexican rebar imports, along with imports from other sources, will most likely come down by at least as much in order to stay competitive with US material. Source: SteelOrbis  – – For the latest in steel news & trends subscribe to SteelOrbis News at https://www.steelorbis.com.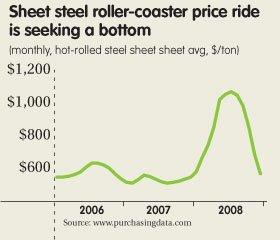 Steel buyers aren't showing much enthusiasm for early 2009, according to a poll by Purchasing magazine, since incoming customer orders are down, manufacturing operations are depressed and prices on all raw materials have been collapsing. Though more optimistic than in November, buyers are entering the New Year with little enthusiasm about first-quarter demand or flat-rolled product–even with expectations of lower transaction prices than the December averages of $634 for hot-rolled sheet, $736 for cold-rolled sheet and $757 for hot-dip galvanized.
Reason: "The U.S. economy remains firmly locked in a deep recession that will be difficult to emerge from in the months ahead," which will keep steel demand depressed, says Scott Anderson, the senior economist at Wells Fargo Economics in Minneapolis. "Consumer confidence is getting totally swamped by a rapidly deteriorating labor market and plunging housing and stock market wealth," which will keep sales of steel-bearing products depressed.
Analyst John Anton at IHS Global Insight's offices in Washington says that "fear has descended onto the steel market, with prices seizing for many products." He believes the demand side is weak in preparation of a long recession and that has been stronger than the fourth quarter supply-side reduction in production to less than 50% of capacity.
Mills have cut production but buyers have reduced purchasing more
"There is some credence to the fears on the demand side," says Anton, noting that "the downturn will be severe and there will be little recovery in North American sheet end-markets of housing, appliances and automotive, which are at the lowest levels in decades." Anton says this end-use weakness will persist through 2009.
In December, the purchase price average for benchmark hot-rolled sheet in coil was 47% below the cyclical peak of $1,068 in July while cold-rolled sheet in coil dropped by 42%. And there was December price slippage also evident for coated sheet, plate products, rods, light structurals and most bar grades. Stainless steel prices also dipped at year's end. And the slide isn't over yet.
In fact, according to sheet steel buyers polled in December, early delivered prices for January averaged $525 for hot-rolled and $628 for cold-rolled. The survey also shows that only 16% of the steel buyers plan to increase purchasing even at reduced prices, though that's higher than the 12% reporting plans to increase buying in November. "There aren't that many orders out there, especially at this time of year," a Midwest service center source tells the American Metal Market subscription newspaper. "The holidays are always slow, but with everything that has happened (related to the global credit crisis), things are even slower."
Source:  Tom Stundza- Purchasing.com
US mill margins 'historically huge' as scrap prices languish
Dramatic falls in US scrap prices but continuing high operating margins amongst steelmakers have defused the assertion made just few months ago by the American Scrap Coalition that high US steel prices were caused by high US scrap prices, Blake Kelley of Sims Metal Management told the Bureau of International Recycling (BIR) convention in Düsseldorf last week.
Kelley drew attention to how currently published rolled steel prices of many US mills, and much reduced scrap prices "still allow historically huge operating margins," citing one published example of a $660/gross ton difference between a just reduced rebar price and scrap purchase costs. He noted that such a margin "presupposes that the true steel sale price is as published, and also suggests any earlier made unfilled scrap purchase contracts were cancelled."
Courtesy: Steel Business Briefing
Everyone wants to blame "speculators" on the rising price of oil, steel, iron ore and various other commodities.  It is an easy way to explain soaring commodity prices. However, the credit crisis may well be the culprit and the problems may continue to exist to years to come.
The way to get prices down for steel and other commodities is to increase supply relative to demand.  Unfortunately, as many large companies already know credit agencies and banks are not willing to take the risks necessary to fund large venture steel and mining projects (thus increasing supply).
Mr. Dan DiMicco,president and CEO of Nucor, brought it home when he told the audience in New York last week, "…the credit agencies have tightened up their sphincters so much that they're not even willing to talk to the highest-rated investment grade mining and metals company in the world and keep their rating if we borrow $3.  So, we are paying the penalties of the bankers on Wall Street and the other banks around the country and rating organizations that were broke and hopefully will be fixed."  Nucor recently had to do a secondary stock offer to raise $2 billion dollars.
If you read my articles last week about the growth of the demand for steel in the world at between 3%-6% meaning as much as 90 million tons of new capacity will be needed each year, then you are aware the need for iron ore, metallurgical coal, coke and other steel making inputs will be necessary.  What hasn't been explained to the steel using community is the devastating affects the credit crunch is having on large companies such as Rio Tinto, BHP Billiton and even more damaging to smaller mining concerns.  According to Jeff Christian, managing director of CPM, a New York based commodity advisory firm – "The financing on those mining projects has slowed to a trickle."  He believes at least two years of development work and perhaps as much as five will be lost before the credit crunch is over.
This will keep commodity prices high for years to come.
That will keep steel prices much higher than we can now imagine – for years to come.
Don't be tricked into believing the current weakness in U.S. prices (mostly related to galvanized) is going to be a long term trend. (Resource: TheStreet.com)
Reference Prices for the week ending June 29th look like this:
Hot rolled coil – prices up $15 per ton ($.75/cwt) to $1,089 per ton($54.45/cwt).  Over the past four weeks HR coil has increased $2 per ton ($.10/cwt) or 0.2%.
Cold rolled coil – prices went down $4 per ton ($.20/cwt) to $1,155 per ton ($57.75/cwt).  Over the past four weeks CR coil has decreased $16 per ton ($.80/cwt) or -1.4%.
Galvanized coil – prices remained flat (no change) this past week and remain at $1,221 per ton ($61.05/cwt) for .060 X 48″ G90 CS/B. A note here – The Steel Index is showing galvanized coil in Turkey to now sell for $66.25/cwt in their domestic market or, +$5.20/cwt higher than here in the U.S.
Stock Levels in North America showed a significant increase from the previous week.  35% of the respondents are now reporting "increased" inventory vs. only 15% last week.
Steel Demand Outlook for the Next Three Months in North America showed a significant move towards "decreasing" or "strongly decreasing" demand.  Close to 60% of the respondents believe demand will decrease.  Of all respondents only 10% forecast an increase in demand.
Delivery Lead Times -shot up on Cold Rolled to 8.0 weeks – which leads me to believe last week's number was incorrect (6.5 weeks).  Hot Rolled remained about the same at 6.0 weeks and Galvanized moved from 7.6 to8.6 weeks – this number will need to be reviewed again next week as galvanized lead times have been averaging in the 7 week lead time for a number of weeks and I find it hard to believe in the current market galvanized lead times are starting to extend.  (Source: The Steel Index)