Info, Tutorials and How To Guides
Tag Archives: sjf employees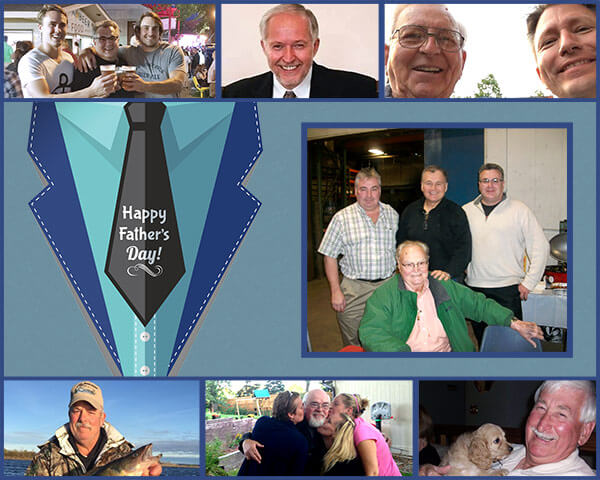 Happy Father's Day to the Dads of our SJF employees!
Father's Day… a day to celebrate the men that taught us, cared for us and loved us throughout our lives. Today we'd like to give a shout out to these fantastic men who gave us their all even when we didn't appreciate it. Happy Father's Day Dads!!
Although most of you see or talk to our sales people in their professional personas when they drop you a line, it's fair to say that we also have lives outside the pond that we call SJF.
For Tom Moore, one of our resident employee anglers, fishing is definitely a lure on his free time. Check out these whoppers he netted Wednesday, June 14. You could even say he's hooked on fishing and angling to catch the biggest fish in all of Minnesota.
Just don't bother trolling for information on where his secret walleye fishing spot is… he won't take the bait and release that information. All you'll get out of him is "Secret Lake."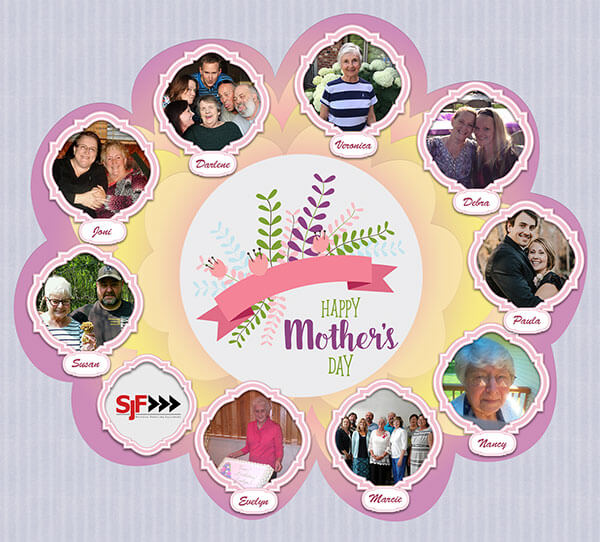 What would we be without our Moms? They raised us, fed us, clothed us, disciplined us (sometimes quite the feat), smiled with us, cried over us… and we know they rarely got the credit they deserved for all the work they put into raising us. This time, in particular, we want to say a big thank you to our Moms – the Moms of SJF Employees.
Happy Mother's Day to the Moms of our SJF employees!
For Mother's Day we wanted show off these amazing women – our very own Moms. Without them, we wouldn't be who we are today!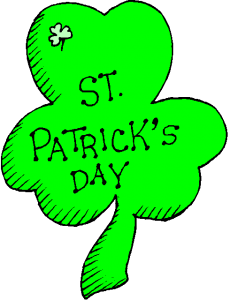 Most Friday mornings at the corporate office in Winsted you'll find Vance Haugen, SJF Sales Specialist, cooking breakfast for the hungry crowd. This morning, however, a leprechaun must have made a showing because breakfast looked quite a bit different than it usually does – the scrambled eggs were green.
This leprechaun didn't leave us any gold, but he did leave his mark on the breakfast eggs because they have never looked anything like this before!
As the Irish like to say:
"There are only two kinds of people in the world, The Irish and those who wish they were."
May your day be filled with St. Pat's Day fun, just like ours!
We're 27.4 lbs Lighter in Phase II of the Contest!
Phase II of the "Fit as a Fiddle" contest, sponsored by MedVelocity had the employees at SJF trimming the fat… quite literally! This is the second phase of a three-phase contest. The second round started on Monday, August 29, 2016 and went through Friday, January 13, 2017 with 10 contestants, all competing for the first, second and third place cash prizes.
A total of 27.4 pounds were lost, and seeing how this timeline went through the holiday season, we felt pretty good about that! Congratulations to Lori Bachel (1st place), Vance Haugen (2nd place) and Rhonda Remer (3rd place), as well as the rest of the gang for taking a step toward health!
Time for Celebration
Christmas at SJF is a time for celebration, not only because of the holiday season but because it is when we recognize the outstanding employees that make us what we are today.
Each year, SJF recognizes the sales team members with Sales Achievement Awards for their hard work and dedication over the last year. In addition, SJF awards Service Awards to employees celebrating a work anniversary for their many years of service.
Sales Achievement Awards
Two Million Dollar Club
Eric Thovson – Top Sales Person 2016. Eric sold a whopping $2.6 million dollars of products!
Kendal Kalamaha – $2.3 million dollars in sales for 2016.
One Million Dollar Club
Jason Deiter – $1.5 million dollars in sales for 2016.
Vance Haugen – $1.2 million dollars in sales for 2016.
Tom Moore – $1.6 million dollars in sales for 2016.
Rhonda Remer – $1 million dollars in sales for 2016.
Service Awards
Dedication and commitment are highly valued in any capacity, but in an employee is a special thing. SJF is proud to award the following staff members with Service Awards for their years of dedication:
Lori Bachel and Mark Dahlke – 5 Years of Service
Ed Salonek, Brian Springer and Rhonda Remer – 10 Years of Service
Jason Deiter – 20 Years of Service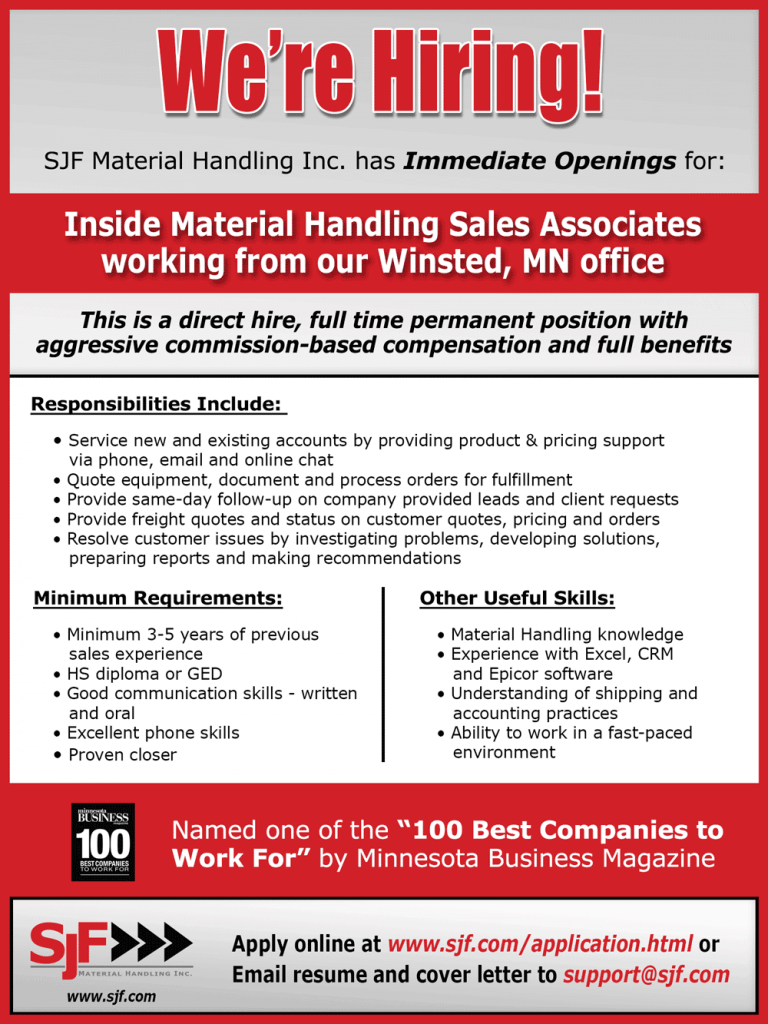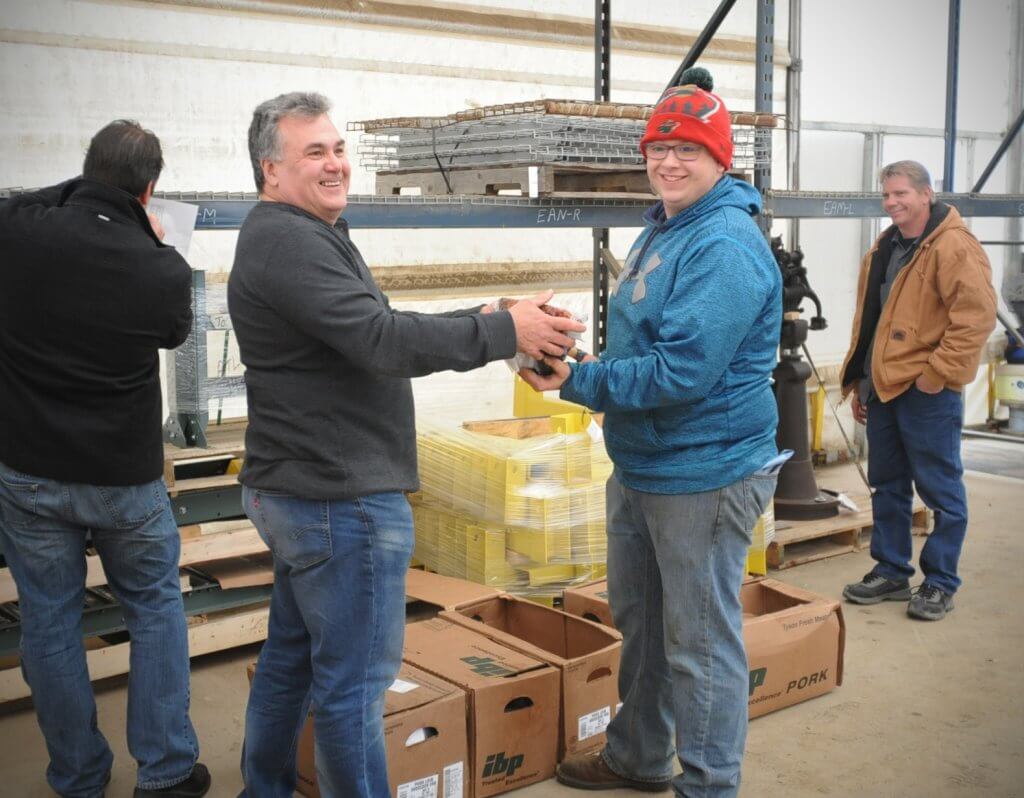 Frank Sterner, second from the left, hands a ham to Ethan Heimkes, second from the right, for his holiday bonus. Also pictured are Ed Salonek, left, and Brian Springer, right.
---
Let the Holiday Season Begin!
The Thanksgiving holiday is all about traditions and SJF Material Handling has a tradition that involves some of our employee's favorite things – FOOD! As in past years, Thanksgiving turkeys and hams were handed out to all SJF employees as a thank you for their hard work and dedication.
Pictured above are SJF Sales Specialists Tom Moore, left, and Jason Deiter, right, showing off their Thanksgiving goodies.