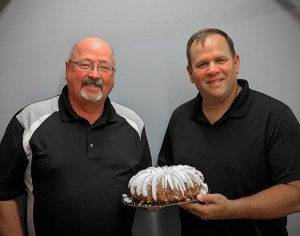 Summer Fun
We've had a busy summer so far here at SJF, but as they say, all work and no play makes for dull people. So when the opportunity presents itself, we take some time to have some fun. After all, summer doesn't last nearly as long as we'd like it to here in Minnesota.
Recently, we had another of our famous BBQ lunches complete with burgers and all the fixins. We also had a chance to wish two of our employees a great big Happy Birthday by allowing them to do the grilling for us. What better way to celebrate?
Birthday Milestones
These two, Vance Haugen and Eric Thovson (ET), both sales specialists here at SJF have something else in common besides birthdays that are close together. They both celebrated milestone birthdays. We'll just say that one of them turned something that rhymes with DIXIE and the other turned something that rhymes with NIFTY. You can decide for yourself who turned what because our lips are sealed!