Info, Tutorials and How To Guides
Tag Archives: sjf employees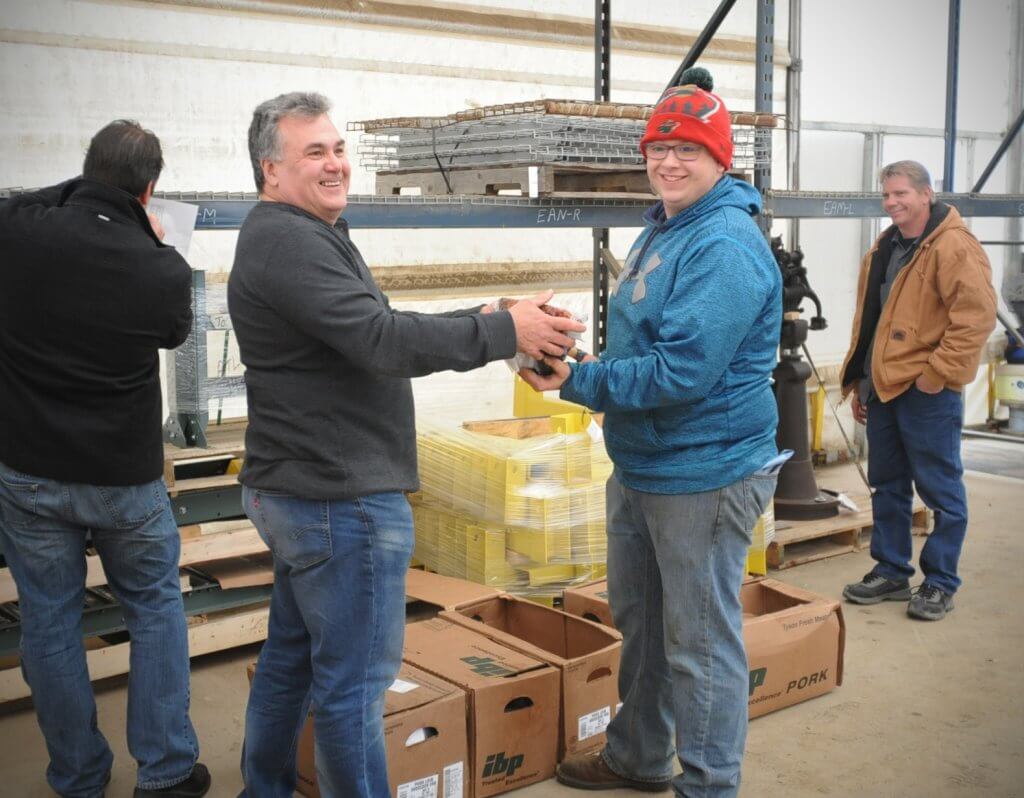 Frank Sterner, second from the left, hands a ham to Ethan Heimkes, second from the right, for his holiday bonus. Also pictured are Ed Salonek, left, and Brian Springer, right.
---
Let the Holiday Season Begin!
The Thanksgiving holiday is all about traditions and SJF Material Handling has a tradition that involves some of our employee's favorite things – FOOD! As in past years, Thanksgiving turkeys and hams were handed out to all SJF employees as a thank you for their hard work and dedication.
Pictured above are SJF Sales Specialists Tom Moore, left, and Jason Deiter, right, showing off their Thanksgiving goodies.
---
SJF Sponsors Minnesota Outlaws
SJF was proud to sponsor the Minnesota Outlaws team in the 2016 Blizzard Bash demo derby on November 10-13 in Topeka, Kansas. The Blizzard Bash demolition derby event is a national event featuring the best drivers and car builders in the country competing in an arena-based team event. Teams compete in a single elimination, bracket-style competition to advance.  The last team standing, wins.
Drivers
Qualifying drivers of Minnesota Outlaws in the 2016 Blizzard Bash were Brad Haugen driving #2k, Matt Foss driving #25, Nate Foss driving #12x and Neil Shaw driving #50. Brad is the son of Vance Haugen, Sales Specialist at SJF Material Handling Inc. Brad won his first heat in the derby and went on to lose the next round.
The guys are already looking forward to next year.
http://www.blizzardbash.com/home.html
SJF employees and management took a few minutes to celebrate Christmas on a Friday afternoon. We enjoyed great food from Famous Daves (nice call owners!) and discussed our year and it's accomplishments. The sales awards were also passed out and employees were recognized for all the hard work they do to make SJF what it is today.
Annual Employee Appreciation Thanksgiving Turkey and Ham Give-Away
Yesterday kicked off the holiday season here at SJF with the annual employee appreciation turkey and ham give-away. Each year the company gives turkeys and hams away to each of its employees to say thank you and to assure that everyone is well fed on Thanksgiving.
Here in Minnesota, we're down to the last few days or weeks of warm weather… warm enough for our employees with motorcycles to ride to work.
What better time to show our alter egos than Halloween?
Photo Gallery :SJF Pre-July 4th Employee Appreciation Luncheon