Info, Tutorials and How To Guides
Tag Archives: sjf employees
Yesterday, Sam Sterner accepted the ALS #IceBucketChallenge. He subsequently challenged the SJF Sales Staff, and being as there are so many of them involved, we had to break out the skid loader to make sure everybody got a piece of the action.
Check out the video after the jump.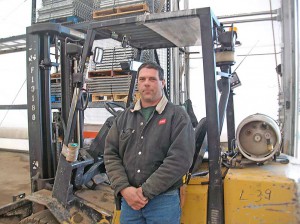 Hello, readers! We are going to try out something new today. We have decided to take one of our employees and shine the spotlight on them so that you can better understand who we are and what makes us tick.
We also want to thank the incredible people we have working here who fill orders, load trucks, refurbish equipment, do paperwork, and all of the other messy jobs that come with running a successful material handling equipment company.
That said, our first Employee Spotlight falls on Shawn Heaver. He runs the day to day dock operations as well as works in the yard fulfilling orders from time to time.
---
Name: Shawn Heaver
Years at SJF: 9 years
What do you like most about working at SJF? I get to work with all different kinds of machinery. I'm a big machine guy.
What do you enjoy doing when you're not at work? Relaxing and Gaming.
What's your favorite game? God of War (PS3)
Do you have any other hobbies? Bike Riding and Walking. I try to ride my bike to work when the weather is nice.
What's your favorite day? Friday, because it's payday and the weekend is just around the corner.
What is your biggest pet peeve? When people smack their lips when they're eating.
Name one thing about yourself that people would be surprised to know. Nothing – I'm a pretty low-key guy.
To kick off the summer, SJF held a company barbecue in the parking lot last week. Hamburgers, Brats & Hot Dogs & even some Venison (Deer) were expertly grilled by our very own Eric Moen and Ed Salonek.
We even busted out our custom made SJF grill made from material handling components left over from various projects in the production shop.
All of the employees enjoyed their lunch and then played a little hoops before returning to work for the rest of the day.
The SJF chili competition was a big success! We had three entrants this time around. Lori Foster brought a red chili made with mostly home-grown ingredients. Vance Haugen entered a delicious red chili, and Craig Fasching brought another small pot of excellent red. Kent Powell brought home-made corn bread to compliment all of the entries. 'Fixins were provided by SJF.
After all of the chili was tasted, the final vote count was as follows:
Vance Haugen: 9
Lori Foster: 4
Craig Fasching: 3
Making Vance the winner (…this time).
Congratulations Vance.
An Addendum: There were to be four entries in the contest this year, however one of the entries made it only as far as the front door of SJF. A certain owner of the company (his first name rhymes with Tank) forgot about the tupperware bowl full of chili in his briefcase. As he entered the building, briefcase in hand, he wondered aloud what smelled like chili before realizing that it was the entire contents of his bag.