Info, Tutorials and How To Guides
Tag Archives: sjf material handling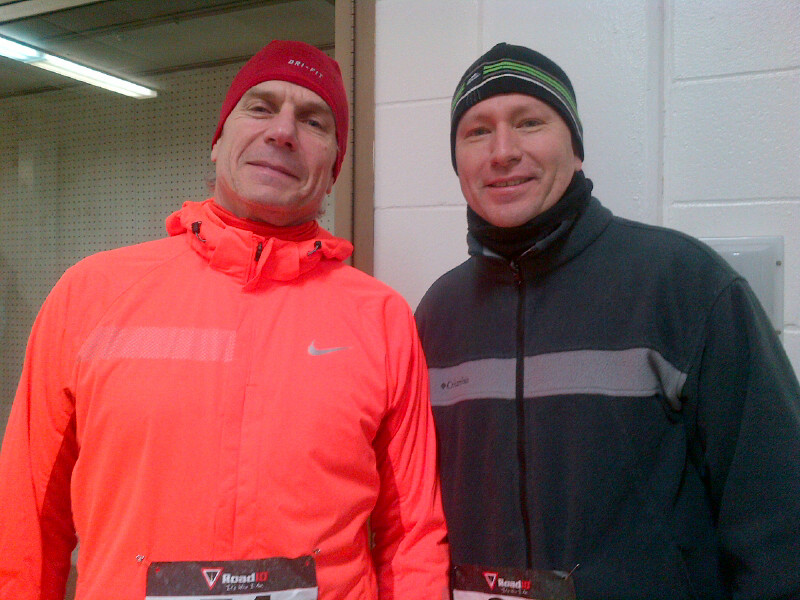 It started with your typical Wednesday afternoon taunt among coworkers which lead to a 5K race challenge on a frigid Thanksgiving day.
Kendal Kalamaha (who's no stranger to accepting a challenge) and Jason Deiter (who's not shy about creating one) overcame some cold frigid weather and a blistering wind to participate in this year's annual Turkey Tag-a-Long 5k run in Howard Lake Minnesota.
It was one of those "if you do it I'll do it to" scenarios that got both men out on the course and across the finish line. While it may have been  Kendal's 1st official 5k race, he is no stranger to running long distances. Kendal has been an avid runner for the past 2 years, often waking at 4 AM to put in as many as 4-5 miles/day before leaving for the office.
Jason is no rookie to competition himself having been an avid distance runner and a local legend a few years back.  At the end of the day,  Kendal  finished with an impressive  25:26:5 time. Kendal's effort for 5K was good enough to earn him a 10th place finish in a field of over 120 runners.    Jason's  31:22:00 time was good enough to beat over half the field and a 40th place finish. Not bad for going right from the couch to the starting line in frigid conditions.
When Jason and Kendal aren't running races or  taking on challenges they can be found working at SJF Material Handling in Winsted, MN. There Jason, Kendal and 6 of their sales coworkers work with businesses nationwide who are looking for  new & used material handling  & warehouse equipment… or at least when they are not taunting each other over the next new challenge.
Yesterday, Sam Sterner accepted the ALS #IceBucketChallenge. He subsequently challenged the SJF Sales Staff, and being as there are so many of them involved, we had to break out the skid loader to make sure everybody got a piece of the action.
Check out the video after the jump.
This article was originally published in the Herald Journal – Volume 95, Number 44.  The author and photographer is Starrla Cray.
---
What's to like about working at SJF Material Handling in Winsted?
"Everything," according to Marty Zitzloff, who has been with the company the past 24 years.
In both 2013 and 2014, Minnesota Business Magazine named SJF as one of the state's 100 best companies to work for, based on an in-depth employee satisfaction survey. "We sort of break all the traditional rules of how business is run," said president/sales manager Stafford Sterner, whose father, Gerald Sterner started the material handling company in 1979.
Employees are often promoted from within, and have the freedom to transition to different departments.
Zitzloff, for example, originally started at SJF as a welder.
"It was a lot of on-the-job training, and a few outside classes," he recalled, adding that he later became the shop and yard supervisor.
Six years ago, Zitzloff decided to get into sales. He didn't have any formal sales experience, but was familiar with the products SJF offers.
"Marty has had a lot of success here," Stafford said. "We find opportunities for anyone who wants to apply themselves."
Continue reading
Currently, stage 1 of the employee Fishing contest is winding down fast.
As of June 19, Brian Springer's 15 3/8″ Crappie entry takes the lead with only 12 days remaining in June.
SJF's fishing contest winners win prizes, raise money for charity and bragging rights to boot!
Keep up with the results and view photos of employees and their entries at this blog:
http://www.sjf.com/blog/tag/fishing2013
As mentioned before in this blog SJF was nominated as one of the 100 best companies to work for in MN by MN Business Magazine. This past Thursday night, the dinner and awards ceremony was held at The Depot in downtown Minneapolis.
Several of SJF's employees enjoyed an evening of food, drinks, and excellent conversation as well as a very nice slideshow put together by MN Business Magazine.
Once again, SJF management would like to thank all of our employees for making this possible.
Enjoy the Photos!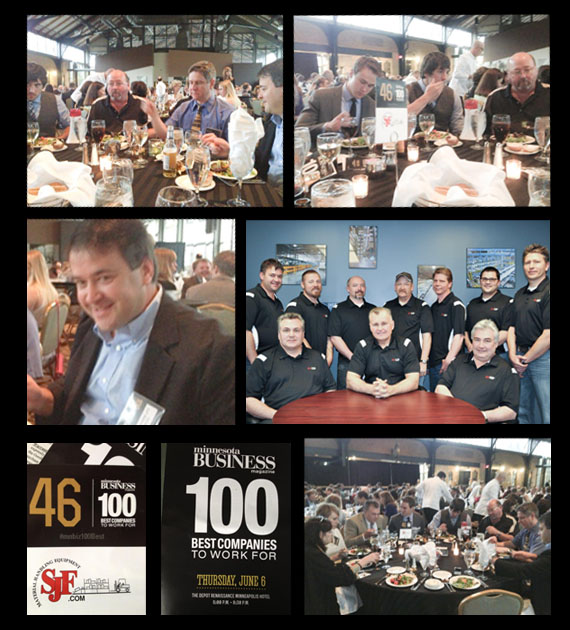 SJF just announced the start of the summer 2013 fishing contest. All employees and their immediate families are invited to participate in this catch & release contest. The contest runs from May – October and will feature monthly as well as overall contest winners.
Winners will be determined using a point system based on the length & species of fish caught per month and over the entire time period. In other words, you may not win a specific month, however you can still win by having the most points at the end of the contest.
Continue reading
On Friday December 21st at noon, SJF Material Handling shut down operations to celebrate the past year with a Holiday Luncheon for all employees.
Sam Sterner, SJF's lead buyer, proved he can track down more than just equipment by spear-heading the food acquisition which was catered by Dicky's BBQ Pit out of Eden Prairie, MN. All employees were in attendance, including SJF's Founding Father, Gerald (Jerry) Sterner.
After everybody enjoyed their BBQ, several awards were presented. Here's a recap.
Continue reading