Info, Tutorials and How To Guides
Tag Archives: sjf news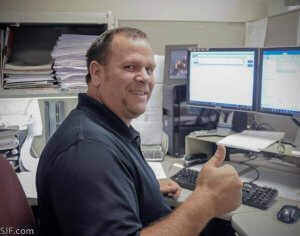 Eric Thovson today received a review from a client that really made everyone at SJF quite proud. It exemplified the type of service and team work our entire SJF team strive to provide our clients.
Reviews like the one James Skallerud provided below make it all worth the effort. Great job Eric and everyone that makes it happen each and every day.
---


To kick off the summer, SJF held a company barbecue in the parking lot last week. Hamburgers, Brats & Hot Dogs & even some Venison (Deer) were expertly grilled by our very own Eric Moen and Ed Salonek.
We even busted out our custom made SJF grill made from material handling components left over from various projects in the production shop.
All of the employees enjoyed their lunch and then played a little hoops before returning to work for the rest of the day.
Hello, my name is Rhonda Remer, and being the newest addition to the SJF project sales team, I'd like to offer some inside perspective from the trenches. I have worked in online sales & support for 6 years and just recently started working in client project sales about four months ago. In my short time in direct sales, I have uncovered 2 simple truths. The first one, I had to learn. The second is a truth that I'd like my customers to learn.
First and foremost though, project sales is harder than it looks. And by hard, I mean time consuming. Don't get me wrong, the lead opportunities are great at SJF. There's no shortage of customer interest & quote requests. Whether it's by phone or email, when I do speak with customers they don't always know how to put into words what they envision in their minds. The back and forth translation of needs & wants takes a lot of time. There are days where I feel like a child on an Easter egg hunt with an eye patch and a broken hip. It's not that we don't have the equipment, (we have loads of equipment!) it's just that with used equipment, having the exact material at the exact time a customer needs it can be a challenge.
Continue reading