Info, Tutorials and How To Guides
Tag Archives: teardrop
In this short video tutorial, Eric Moen covers some of the many sizes and capacities of pallet rack uprights available via SJF's 48-hour quick-ship program.
UPDATE – 3/26
The New Jersey Rack System is currently shipping to our Winsted, MN headquarters.  Many thousands of beams, uprights & rack accessories are available right now for shipment to your facility!
Call 800-598-5532 with inquiries about this pallet rack.
——————————-
Just Purchased – 3 Nice, Clean Pallet Rack Systems!
These are large systems of teardrop pallet racking – FOB NJ, NE and KS.
These systems represent quantities in excess of 9000 ea. 96″ Beams and 1500 Uprights (36″, 42″ & 44″D).  Styles include both Teardrop and T-Bolt.  These popular racks will not last long, and we encourage anybody interested to get them now before we have to freight them back to our central MN location.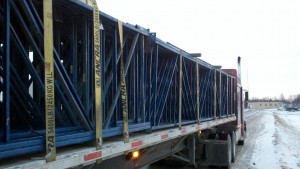 The last two weeks started with a 14 hour day in Worthington, MN.  SJF recently purchased 540 pallet positions of Drive-in-Rack from a company located there.  Sam Sterner headed down in the morning to assist in the final teardown, banding, and loading of the components.  This is truck 1/2 for the day leaving loaded with uprights and rails for the system, headed straight to a customer in Fargo, ND.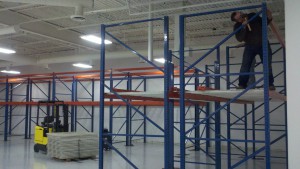 The Worthington, MN shipment occurred on Wednesday, December 14.  Friday, December 16 and the following Monday were spent in Plymouth, MN installing pallet rack for a new Polaris Industries showroom.  The rack was set to allow display of ATVs and accessories for sale.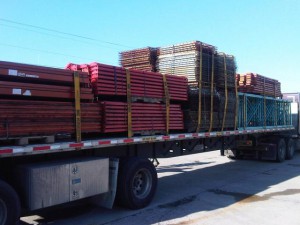 The week of 12/19 also had the arrival of several trucks from a recent purchase in Jeffersonville, Indiana.  These trucks came loaded with rack now available in stock in Winsted, MN.  A brief list includes-
48"x20′ Speedrack Uprights – 204 ea
108"x4" Speedrack Beams – 621 ea
96"x4" Speedrack Beams – 528 ea
48"x 20′  Teardrop Uprights – 40 ea
48"x52" Wire Deck – 653 ea
48"x46" Wire Deck – 747 ea
Many other items including many sizes Speed Rack uprights and beams, Teardrop Rack Uprights and beams, Sturdi-built, Palmer Shile, Ridge U Rack uprights and beams, and many other sizes of wire decking.  Call an SJF sales representative for more details!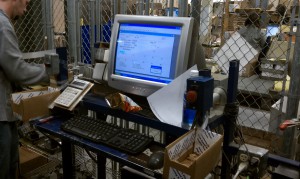 The recent weeks also included the testing for SJF's carousel software. The first run through should be up and running soon for our first customer here in the Twin Cities metro!  This is an exciting new venture in carousel controls, and can drastically improve efficiency in your carousel system.  The best part, it works with any and every carousel. Contact us today with more information on this new product!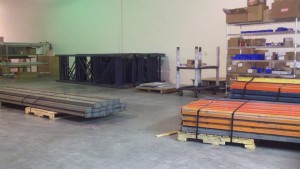 Four days before Christmas, Sam Sterner headed to Rogers, MN to band up another recent purchase of Sturdibuilt pallet rack.  This included 144"x6" and 144"x3.5" Sturdi-Built beams, 48"x10′ Sturdi-Built uprights, and 144"x5" Teardrop beams.  These were brought right down the road to our stock in Winsted, MN.  These are very nice, heavy duty beams available now!
The month of January looks to be just as busy for us here at SJF.  Already in the works is truckloads of conveyor leaving Phoenix, AZ; three carousels we purchased in the Twin Cities; a large warehouse full of structural racking in Ohio; and many more projects around the country, so stay tuned!
New Pallet Rack Purchases
Recently posted for sale on SJF.com – available immediately.  FOB MN. (click pictures and links for sizes and prices)
* * *  UPDATE  * * *
This material has been fully removed and partially sold. Some of the rack and most of the carousels are still available for purchase and would ship from SJF's main facility in Winsted, MN. Please call 1.800.598.5532 if you are interested in remaining quantities and sizes.
* * * * * * * * * * * * *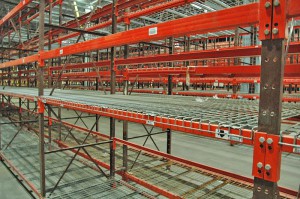 SJF Material Handling Inc. (SJF.com) Winsted, MN was awarded the winning bid for all pallet racks and vertical carousel equipment liquidated in conjunction with the bankruptcy sale of material handling equipment from the Borders Books Distribution facility in TN.
SJF acquired the warehouse equipment which it is now offering for sale to the public via the company's web site at SJF.com
SJF is currently offering immediate shipment of all orders it receives for the equipment as it is being removed from the TN facility.
Sales & shipment of the pallet rack and carousel equipment will be available from locations in Tennessee and Minnesota during September.
Below is a brief summary with direct links to detailed descriptions, photos and discount pricing on the equipment available for sale.
Pallet Storage Racks
33,950 ea. – 96″ x 3.5″ – 4″ – 4 ½", – 5″ pallet rack step beams
3,428 ea. – 42″ wide x 14′ – 26′ high pallet rack uprights
22,554 ea. – wire decks that fit 42″ deep pallet racks
21,345 ea. – pallet supports to fit 42″ deep pallet racks
These racks are available in the following brands: Teardrop, Speedrack, Ridg-u-Rak, Frazier Structural Rack
Also: Wire Decking & Pallet Supports
Vertical Carousels
Carousel manufacturer – Diamond Phoenix
22 ea. total carousels available for sale.
18 ea. – 16′ tall Diamond Phoenix Vertical Carousels
4 ea. – 25′ tall Diamond Phoenix Vertical Carousels
View Carousel Photos & Specifications
Contact SJF via phone at 1.800.598.5532 or email with all inquiries on this surplus material handling equipment..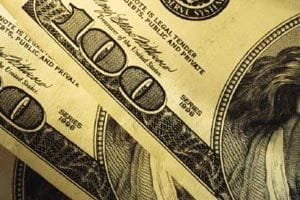 SJF pays top dollar for quality used equipment.  If you have any other used equipment available for sale and want to tell us about it, visit our Equipment Wanted page.
If you have any of the equipment listed below available for sale, please contact the salesperson listed with the equipment.  Be sure to include as much detail and as many photos as possible.
Wanted – Paying cash for racks, wire baskets, yard ramps & more…