Info, Tutorials and How To Guides
Tag Archives: tips & tricks
So it's your first auction and the place is full of people and excitement. The auctioneer is barking out bids, numbers and prices. People all around you are bidding on an item like it's a long-lost childhood toy. You notice that some item you have just seen in the store sold for a fraction of the store price. A second item comes up and it goes for yet another great bargain. You think, "Wow, this seems like a pretty easy way to get things dirt cheap. Maybe I should bid and get in on the action. How hard can it be anyway…right?"
Wrong!
While great buys can be had at auctions, the opposite is also true. Getting stuck with something that isn't what you thought it was can (and more often than not, does) happen. Below are some pro tips that you can use to avoid costly mistakes. Following the tips will save you a lot of grief and expense and give you the tools you need to bid like the pros.
#1 – Hidden costs
While auctions provide a means for anyone to find a bargain, it's important to keep in mind many of the hidden costs often associated with auction buying.
Buyer's Premium/Commissions
Most, if not all auctions have what is called a buyer's premium. This is an additional fee that is put on all items sold at an auction. This fee can run anywhere from 10% to 20% of the item's sell price. This cost is an additional fee that you will be charged for items you buy in addition to the price you bid. Beware – buyer's premiums can add up very quickly. Auctions can often have different buyer's premiums for those bidding online and those physically bidding at the auction. Every auction is different so take note of what these costs are and which fees apply to you before you bid.
#2 – Do a detailed inventory and inspection
If I can give you two pieces of advice here – it would be these:
Don't assume all the parts or there.
Don't assume missing parts can be requisitioned or repurchased.
I've seen to many rookie bidders thinking they got a great buy only to discover later that the items are no longer in production or the manufacturer is out of business. Do a detailed inspection of items to make sure all necessary items (ie. hardware, parts, controls, manuals etc.) are there. If parts are missing make sure replacements are available and have an idea of what the costs will be to fix, repair or replace what is missing before you bid.
#3 – Taxes & Fees
Depending on the location of the auction, be aware that different states have different rules about what taxes or fees they want you to pay. Some states are nothing some are 6% – 8% or more.
#4 – Remember…there are no "Do-Overs"
What that means is that "What you see is what you get!" and "You buy it, you own it!"
If an item you bid on doesn't run or isn't what you thought it was, you have NO RECOURSE later. The auctioneer is not going to give you your money back or allow you to back out of a purchase once you buy it. It is your responsibility to know what it is you are bidding on – NOT the auctioneers. Items purchased thru auctions are inherently sold "as-is, where-is" with no implied guarantee or warrantee.
Caution: Auction bidding is a fast paced game for grown-ups – not victims. At auction, you sign the auction's terms and agreement paperwork before you are allowed to bid. This agreement is a legally binding contract that says you know what you are doing and what you are bidding on, and you assume all liability to pay for whatever you buy in the condition it is in when you buy it. If you bid on an item thinking it works or runs only to find out later it doesn't – too bad. In other words – you buy it, you own it.
#5 – Removal Costs
Never forget, unless specifically stated otherwise, everything in an auction is sold "as-is, where-is." If the equipment you purchased requires dismantling and/or removal, YOU (as its new owner) will be responsible for the disassembly and removal of the item – not the auctioneer or former owner. This can be very expensive.
#6 – Time Costs
Related to removal costs are time costs. There are often very short time frames and/or restraints for removal that you will be responsible to adhere to. Failure to comply with these can result in fines or legal action and even forfeiture of the equipment. The time you have to remove the item can also drastically affect the final sale price you and others may be willing to pay. I have seen time frames for removal that range from the same day as the auction to several weeks or even months. Know when things need to be removed before you bid.
#7 – Transportation
Items to big to move by yourself may require additional people or equipment to move. The auctioneer IS NOT going to do that for you. Don't bid on items that will require you to hire or requisition additional people unless you know the costs of doing so in advance. With fuel prices on the rise, having to freight items across long distances can be very costly. Again, know and factor in all the costs before you bid.
There you have it – as with any great deal – the devil really is in the details. Please feel free to comment or share other auction tips or tricks in the comments below.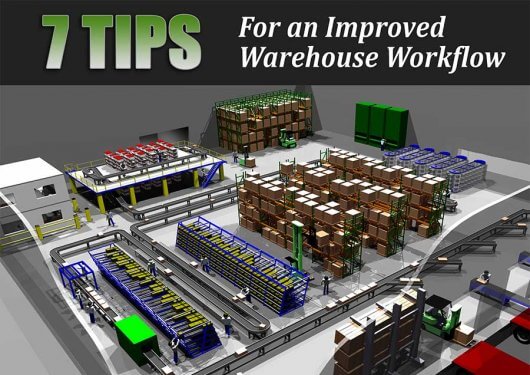 From managing logistics and layout to ensuring optimal safety and efficiency, warehouse workflow is more than just the speed of output. A quality warehouse manager knows how to utilize their best tools to achieve maximum optimization but even the elite need a refresher of best practices to keep things running smooth.
Here's our list of 7 Tips for an Improved Warehouse Workflow:
1. Laying out the warehouse for optimum space utilization
The most important job of any warehouse manager is to determine how to best use the available floor space to store and move product. Especially in high dollar real estate markets, every inch counts! Ideally, the process begins with a complete drawing of the space including posts, sprinklers, windows, doors and any other architectural fixtures that will have to be taken into account. Then, the warehouse manager must clearly understand the inbound and outbound operations with the goal of maximizing space utilization while also saving time and reducing errors as product is moved in and out of the warehouse.
2. Using the proper type of storage systems
Choosing the proper type of storage system is an essential component of warehouse workflow efficiency. Understanding what is being stored, how much of it is being stored and how often it needs to be accessed will determine the most efficient storage system to use. Factors such as product expiration, temperature requirements and product demand must also be factored into the type of storage system chosen. Storage systems can be mixed and matched to meet the various product rotation needs within the warehouse. The speed and frequency of vehicles (such as forklifts) moving through the warehouse will dictate the durability requirements of any storage system.
3. Picking optimization
Within the warehouse layout, pick routes must be carefully planned. Minimizing travel through the warehouse will result in significant time savings and reduced potential for accidents. No matter how large the warehouse is, the amount of time spent picking product represents a significant part of costs. Organizing pick routes to match pick lists is a great way to reduce going back and forth through the aisles.
4. Properly managing inventory
A surprising number of companies do not know exactly how much inventory they have and exactly where it is stored. It is impossible to run an efficient workflow without this knowledge. More organizations that do a good job of inventory management are adopting lean inventory practices—only storing what is actually needed. The benefits of lean inventory management include time savings and waste reduction which translate to cost savings. Inventory must always be properly labelled to ensure proper counting, storage and retrieval. There are a number of different ways to keep track of inventory, from manual processes to highly automated, integrated systems.
5. Using Technology
While some companies are still using spreadsheets and other manual systems to manage their operations, the vast majority have adopted at least some technology to help them manage their warehouse. There are a plethora of WMS (warehouse management system) options available today that can help you manage standard as well as daily tasks such including labor, inventory, order processing, SKU handling, stock location and more. WMS's can be standalone systems or part of a full ERP (enterprise resource planning) system. Always make sure WMS modules are linked and integrated to ensure smooth operation of the system as a whole and that users are fully trained on all software systems. Aligning IT and operations for a common understanding of business processes is a must.
6. Keeping the Warehouse Tidy and Orderly
Cluttered and disorderly aisles not only create safety hazards, they greatly impede the ability to move through the warehouse efficiently. Allocating even a little bit of time every day to clearing the aisles will immediately improve workflow. Consider posting SOP's where appropriate, within the warehouse.
7. Maintaining Health and Safety Best Practices (including training)
Worker safety is of utmost importance to any company. Making sure workers are fully trained to do their jobs before they start doing them is always the best practice. Spending more time training will pay back many times over in not only accident reduction but error reduction as well. Consider cross-training workers to be able to perform more than one type of job so you can keep your operation moving at all times. Provide refresher training to make sure all workers are current in your processes and work standards. Clearly marking travel paths, for forklifts and people, and keeping them clear of clutter is essential to creating a safe work environment. Having proper lighting will reduce potential errors in product picking as well as improve the overall environment for the workers. Posting health and safety rules and regulations where everyone can see them is required by law.
Optimizing warehouse workflow is essential to optimizing profits. As inventory and storage needs change, warehouse design should be revisited and amended as practically as possible.
---
About the Author: Jeff Howard is the VP of Sales for Advance Storage Products, a structural rack systems manufacturer. Jeff has over 15 years in the material handling industry and holds a BA in Economics from Denison University.