Info, Tutorials and How To Guides
Update to SJF Mobile Site
March 1, 2012
Posted By:

SJF Material Handling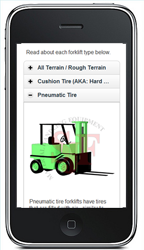 SJF has recently updated their Mobile website.
These new additions include:
∙ Adding direct links into our online store
∙ Adding an additional guide on forklift trucks
This new guide can help users identify a forklift and the benefits and drawbacks of that type of lift truck directly from their mobile device.  The guide is linked from the 'Resources & Guides' section of the SJF mobile website – which can be accessed either by visiting sjf.com on a mobile device.
Please feel free to share your opinions of and ideas for our mobile website in the comments section below.