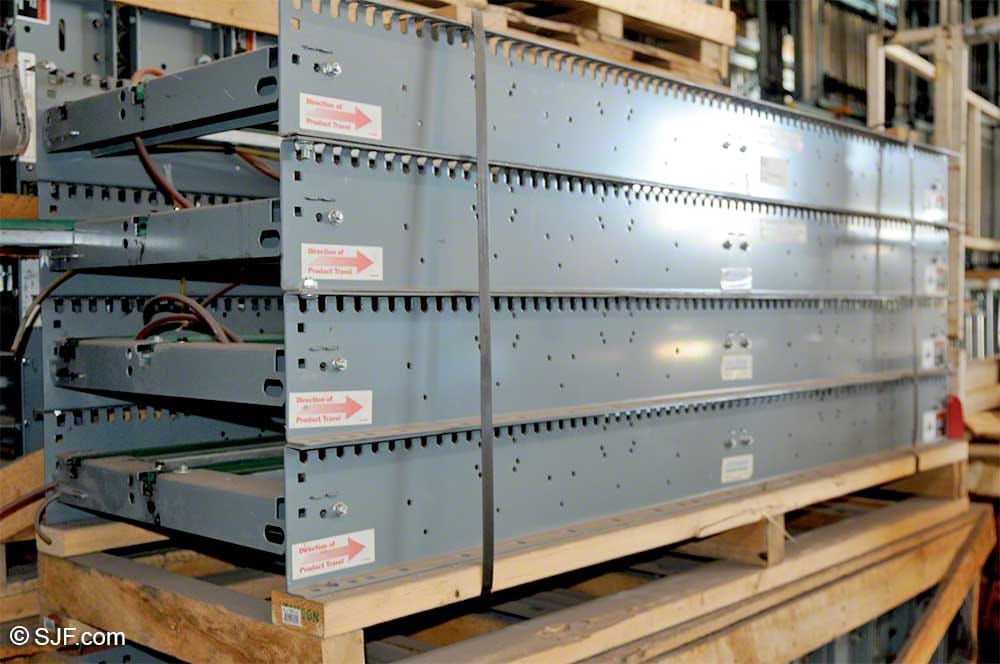 This belt conveyor was purchased in good condition and is currently in-stock and stored indoors at SJF's main facility in Winsted, MN. We also have several used chain driven conveyor curves, drives and more available but not always listed. Component items we usually have in stock include: adjustable conveyor stands, used conveyor chain, gearbox infeeds, plastic conveyor chain, conveyor saddlers, guardrails, chain conveyor systems, and more.
Description
Used (As-Is)
As Low As
Refurbished
As Low As
Alvey Pallet Conveyor - 56"W x 6" H Frame - 2.5" rollers 3" on center - 3/4" hex shaft, 6' sections - 20" H Frames
$79.50/ft.
call
Accuglide Transportation 24.5" OAW
$60.00/ft.
$75.00/ft.
Accuglide Tail-Ends 24.5" OAW
call
call
Alvey Pallet Accumulation 56" OAW Padded Chain Drive 2-1/2" on 3" c/c Photo Eye Controlled 5' Zones
$79.50/ft.
$99.00/ft.
unknown, 24" OAW, 10' beds
$60.00/ft.
$75.00/ft.
Please call (320) 485-4974 (direct sales line), (800) 598-5532 (toll-free) or Email Us for pricing, availability and lead times. If you don't see what you're looking for, our sales specialists can often find it.
Pricing & availability subject to change without notice.
---
Conveyor Dimensions Guide