SJF Material Handling Inc. is a Nationwide Stocking Distributor of new and used material handling equipment. Find thousands of products in stock and ready to ship.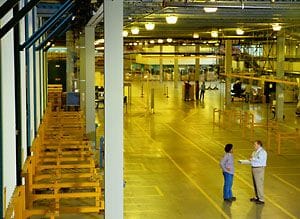 SJF is different from other material handling companies because we have over 20 acres of used and reconditioned material handling equipment in stock. If you're looking for a special type or size of pallet racking or conveyor, chances are we have not only one, but several. If you need, we can even recondition products so that in a side-by-side comparison, you wouldn't even be able to tell new from used.
SJF can handle all stages of any project you are planning; everything from design and layout to shipping and installation. As you can see, at SJF we take our customer's needs and concerns very seriously. We'll work with you to get your ideas from paper to real world solutions that enable you to realize return on your investments in months instead of years.
Listed here is an overview of just a few of the key products that we stock in order to service the unique material handling needs of our clients.