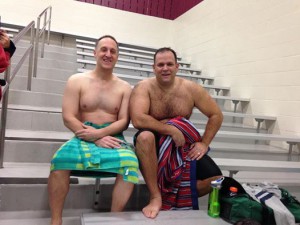 SJF's very own November inside sales champ Eric Thovson (right) shown here with classmate Mark Karsten talking some smack & posing for photos this past weekend. Eric and Mark posted times of 27.84 & 27.95 respectfully. Not bad for 2 of the oldest swimmers at the meet.
Eric has long been very passionate about promoting the local swim team and has been instrumental in the success of the current program. When he's not promoting swimming, Eric can be found at SJF Material Handling in Winsted, MN. There he works as a inside sales & solutions specialist. No stranger to success, November was a record sales month for Eric and good enough to secure the #1 rank honors among his peers.
So what's next for Eric "ET" Thovson?
Could an Eric Moen swim challenge be in the cards for 2015?