Info, Tutorials and How To Guides
Tag Archives: pallet rack
Removing the risks – buying used pallet rack and other pre-owned equipment
Certainly, you can save money by purchasing used pallet rack instead of new equipment. Are there are some risks involved? Yes! Will it likely to have a shorter remaining service life and is there no manufacturer's guarantee? Not necessarily! A common misconception is that with used equipment you're not really sure what you're getting. You can, however, easily reduce and even outright eliminate many of these risks by simply dealing with the right people when entering the used market. This article is a primer that covers a few of the basics.
There is no board that certifies dealers of used pallet rack. Used dealers are not "authorized" by the manufacturer or anyone else for that matter.
That said, the fact that some dealers of used equipment are also authorized dealers of new equipment, be it one or more manufacturers, is a good indication they know what they're selling. Unfortunately, there is a wide variety of sellers of used pallet rack – individuals, brokers, middlemen and auctioneers. How do you know you're dealing with a legitimate operation, and what makes an operation legitimate anyway?
Used Dealers: The good, the bad and the ugly.. and how to tell the difference.
KEY QUESTIONS & COMMON SENSE:
1. Do they stock what they sell?
There are several advantages to dealing with a dealer with an inventory, including assured delivery and easy inspection of items in stock. Even if the specific equipment you are looking for is not in his current inventory, the fact that he has one tells you some positive things about the dealer. We'll get into them later, but they cause some dealers to give the impression of having more stock or a larger operation than they have if they have one at all. Beware of false impressions. A few years back, a self proclaimed major dealer had a web site with a picture representing his company location. The photo featured a large and impressive building in the middle of the photo. While the photo did include his building, what he didn't tell people was his office was actually a one room office located in the shopping mall across the street and barely visible in the bottom corner of the photo.
Obviously, the best thing is to go see the dealers facility yourself, but that's not always convenient, especially in the early stages of your search when you are looking at numerous possible dealers.
TIP: If it's not convenient to inspect their facilities in person, go on-line with one of the various map sites like Google Earth or Google Maps (https://maps.google.com/) and enter their address. Look at a satellite photo of their location. If they have offices in their basement or a shopping center, chances are they have no inventory. If their inventory is extensive, you should be able to see it in the photo.

TIP: Beware of P.O. Box numbers and suite numbers, which often disguise a one-room office.
2. Is it an established business?
The pallet rack business is extremely competitive and dealers with a bad reputation don't last long.
Long term survival is not just proof that a dealer has treated their customers well. Experienced pallet rack dealers know the equipment and can tell the jewels from junk. They know industry trends and current standards. In general, their recommendations are good, their prices are fair, and they have the respect of the industry. If they didn't, they wouldn't be around this long.
RULE OF THUMB: Look for a company with a track record with at least ten years of business history under the same name. There is at least one such dealer in every major city in the United States.
3. Is it a real business?
We have already talked about people doing business out of their basement or a shopping mall, but it gets worse. Some people do this in their spare time. They have a day job, which may or may not have taught them something about pallet rack. They have neither the experience to guide you in making a good purchase nor the resources to support you after the sale.
TIP: Ask for a business phone number, not just an e-mail address or cell phone number. If nobody answers the phone and you get the same person's voice mail every time, there may be a problem. If your contact can't meet with you during normal business hours, there's definitely a problem.
4. Do they own what they sell?
Some brokers are no more than deal-makers, simply flipping the equipment and doing no more for their money than making a couple of phone calls. (Hollywood is run by deal-makers these days, and you know how long it's been since they made a decent movie.) What you want is someone who has demonstrated their faith in the quality and sale-ability of their product by investing their own money in it.
TIP: Any legitimate dealer will be happy to let you inspect the equipment. Don't accept photos. Larger dealers may have multiple storage facilities throughout the country. If the equipment has only recently become available, it may still be on the premises of the former owners. If you are performing an inspection anywhere not owned by the dealer, ask the people there who owns the equipment, or ask for proof of ownership.

TIP: Don't give the dealer your money to buy the equipment. Pallet rack often comes on the market because of the bankruptcy of the current owner, and if the court seizes the assets of the company you may never see your equipment or your money ever again.
5. Is the company financially sound?
If your purchase is large enough to justify the expense, it may be a good idea to get a D&B report. The cost is $100.00 or less and can easily pay for itself many times over. This will tell you who they buy from, their payment record, lawsuits filed against them, when they were incorporated, the number of employees and the names of owners and officers – all valuable information.
TIP: If the person you're dealing with claims to be the owner and operator but is not listed as either, this may indicate an attempt to shelter himself or his assets from previous lawsuits or bankruptcies. While privately held companies will often divulge less information that public ones, the fact is that reputable companies have nothing to hide. Use some common sense when evaluating companies. There are plenty of good people who run good companies out their and provide D&B their information. AVOID those that feel the need to conceal or shelter their histories, owners, officers, backgrounds and/or financial information. Ask yourself, what's so shocking that they need to keep it hidden from public view?
6. Can they provide follow-up services?
Everyone will sell you equipment but only a few service what they sell. Once you own the equipment, someone has to inspect, repair, replace, buy back, deliver, install and maintain it. If it's not the broker, you will have to start another search for somebody who can. Ask to see their facilities and resources for performing such services.
TIP:The broker may tell you he has somebody else to perform these services. Keep in mind that adding a middleman can mean a loss of control over costs and schedules. It also complicates communication with the various people involved. Can they repair or replace items that get damaged or need repair? If so, at what price? What you discover may be pretty shocking.
7. What is their reputation?
You can always ask for references, but be wary of the lists they voluntarily to give you. Some references are kept on a permanent retainer, and almost all of them are carefully selected.
Instead:
TIP:Ask about jobs they have performed in your area and whether you can talk to these customers. If they can't provide names, it may mean
1) they have no track record in your area or
2) they have had service issues resulting in poor relations with customers.

TIP: Call their competitors.
Ask is they have ever heard of the company you're asking about?
What is their reputation among other dealers?
Have they had any dealing with them?
If so, what was that experience like?
While impressions and opinions are just that, this is one instance where no news is NOT good news. Feedback like "I'd rather not say" or "NO COMMENT", are not good testimonials.
I have always found people willing to volunteer feedback if they have good things to say while most will be reluctant to say anything bad. Usually a dealer will simply refuse to provide an opinion rather than provide you a negative report. Look for a pattern to the feedback you receive as this will provide you a good indication of what you can expect. Ask prepared, factual questions about the things covered in this report: time in business, number of employees, etc.
Pallet rack, like the majority of material handling equipment, is available from several quality manufacturers in the United States. The question of what to buy is normally fairly straightforward. The real question is, who you buy it from to get the best possible deal in terms of price, delivery and support. There are several options.
Fact: There are more pallet rack options available to you now than at any time in history.
Fact: There are very significant differences between New, Used & Refurbished pallet racking.
Fact: You think you know everything there is to know about each – but really, you don't.
The fact is, what one dealer says can often conflict with what another dealer says. As with any industry, there are several ways of doing something, but there are only a few ways of doing it right. The following article will give you some insight into what the differences may be between not only new, used & refurbished racking, but also the differences between the offerings from dealer to dealer.
---
New Pallet Racking
As you'd expect, new pallet rack is exactly what the name implies. New pallet rack is typically sold through authorized rack distributors. Rack distributors fit into two main categories: Stocking & Non-Stocking. The pricing that distributors provide can vary considerably. Stocking dealers and dealers who sell a larger volume of rack generally will get the best discounts from the manufacturers and will usually offer the best pricing to the customer.
Non-stocking distributors do not stock pallet rack, but rather buy & ship it directly from the manufacturer as they produce it. For this reason, rack purchased from non-stocking distributors will usually have a much longer lead time (4-12 weeks.) Rack purchased from stocking or non-stocking distributors typically comes with the same manufacturer's warranty.
---
Used Pallet Racking
Used rack is rack that has been previously utilized by others. Used pallet rack can be found in conditions from 'like-new' with a few scratches to completely rusted or bent in places. Used rack can be a good investment for those looking to save money as long as the buyer takes some precautions. It is critical to validate not only the condition of the rack prior to purchase, but also the reputation of the dealer selling it. Start by finding dealers who have been in business for several years – the more the better. Check their web sites and avoid companies that don't provide photos & descriptions of their equipment or if they don't show pricing. The web site should also provide you with a physical address where the company resides, a phone number and the names of people you can talk to. They should also be able to verify that they own the equipment. Avoid dealers who will not let you inspect the racking before purchase. If the racking looks good and there's little rust, the components should still have the same strength and capacity ratings it had when it was new.
---
Refurbished Pallet Rack
Refurbished pallet rack is another option available to rack buyers who want a lower priced alternative to new racking. Because there is little to no industry standardization for the term "Refurbished," it is a good idea to ask what steps the supplier takes in their refurbishing process. While some dealers do a complete break-down, inspection & repair of the materials, some do not. The point is that not all refurbishing processes are the same. To make sure you're getting what you pay for, equipment advertised as refurbished should go through many if not all of the following steps:
Inspection
Each piece to be reconditioned is thoroughly inspected. Components that are found to be damaged, cracked or bent should be repaired or replaced by experienced professionals. Replaced components should equal or exceed the manufacturer's original specifications.
Clean & Prep
During this stage, all stickers, tags, etc. should be completely removed (not just painted over.) Dirt, debris and rust should also be removed prior to paint. Chemical baths or wire brushes are the preferred methods of removing dirt or rust prior to painting. While sand-blasting may be a cheaper process, it can remove some of the metal from the racking which can compromise the structural integrity of the product. No matter what method is used, make sure your dealer can confirm and will stand behind the original capacity rating of the rack.
Paint
Items that have passed the prior two steps are ready for paint. There are many different methods of painting. Whatever method is chosen, it should utilize paint that is specially formulated for industrial applications. For industrial applications, powder coat, epoxy & heated enamels are superior to cold applied spray or latex.
---
Renewed
Recently a new condition was introduced to the material handling industry. This 'Renewed' equipment provides "like-new" material at prices competitive with used or refurbished. Renewed products are manufactured as a blend of new & pre-owned materials that when combined, create a fully warrantied hybrid product that until recently, didn't exist in the marketplace. Currently, SJF Material Handling is the only company offering renewed pallet rack.
So you've finally gathered the 3 competitive rack quotes that your boss requested a week ago. Now it's time to sit down and give them a good looking over. While you may be tempted to simply look at the bottom line on each quote, you'll want to first make sure you're really getting the best price – not just the lowest.
5 of the most overlooked items on every pallet rack quote after the jump…
Continue reading
SJF Supports Edina High School Marching Band Uniforms… Literally
There are many, many ways to use different types of racking for storage in all kinds of environments. Here you see how Edina High School set up their storage area for the Marching Band uniforms and props.
Soul Flower was founded in 1999 by Mike and Peggy as a way to promote a bohemian, eco-friendly, and peaceful lifestyle. Our little shop on Grand Avenue in Saint Paul, Minnesota was a gathering place for college students and locals looking for 'cool threads for kind heads'. Since those days, Soul Flower has made a few changes… they no longer have a retail store, but have expanded with a digital catalog, an online retail shop, a wholesale catalog, and a screen printing team. One thing that hasn't changed is our dedication to offering our customers thoughtful, eco-friendly clothing styles at an affordable price – and of course the best customer service anywhere!
In 2014, Soul Flower contacted Eric Moen at SJF to assist in a new addition to their expanding warehouse, and he was happy to oblige.
Advantage Sign and Graphic Solutions, a national leader in the sign and graphics industry for over 20 years, has been a client of SJF's since 2011.  Recently, they went though a building expansion in one of their eleven national locations, and called on SJF for a quick turnaround to meet their needs.  Advantage Sign and Graphic Solutions is a top rated website with over 400 ratings and a 5 star rating.  This project and material was coordinated by Jason Deiter at SJF.  He can be reached at jdeiter@sjf.com.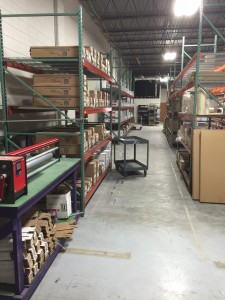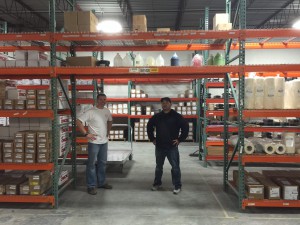 Cameron's Coffee is a Minnesota based premium coffee roaster, with a unique roasting and packing plant made to deliver the freshest and smoothest coffee around.  Focusing on sustainable practices and minimal carbon footprint, they are a leading provider of coffee across the nation.
With all their roasting done locally in Minnesota, and with a boom in coffee drinking, Cameron's was in need to consolidate and simplify their operations.  They contacted SJF to assist in a three phase move into a larger warehouse.  Three existing coffee storage warehouses were consolidated into the new larger warehouse, along with their display fabrication shop.