Info, Tutorials and How To Guides
Archives: Hall Of Fame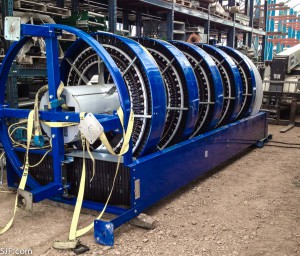 The SJF automation team continues to spearhead going projects for growing businesses here in Minnesota. Final testing and work was completed on this pre-owned powered spiral conveyor this past week. An impressive piece of equipment, this spiral is just one of the many components associated with several ongoing automation projects that Frank  Sterner's team of  Matt Johnson, Dave Kiefer, Brian Springer currently have in the works.
According to project manager Frank Sterner, the powered spiral shown below is just one of several  automation components scheduled to be installed for a growing order fulfillment operation SJF is working with right here in Minnesota.
SJF Supports Edina High School Marching Band Uniforms… Literally
There are many, many ways to use different types of racking for storage in all kinds of environments. Here you see how Edina High School set up their storage area for the Marching Band uniforms and props.
Michael McGullam from Leisure in Montana in Billings, Montana called SJF Material Handling looking for a racking solution to get his large, bulky hot tub covers up off the floor and stored in a more efficient manner. He and Kendal Kalamaha, SJF Solutions Specialist, discussed some possible pallet racking sizes and options, along with possible alterations.
One of the challenges they found was dealing with the freight to Montana, so Kendal was happy to work with him to maximize the order to get the best bang for the buck.
The Process of Building Racking, Step by Step
Watch the process unfold as Michael receives and builds his custom pallet racking storage for his business:
Soul Flower was founded in 1999 by Mike and Peggy as a way to promote a bohemian, eco-friendly, and peaceful lifestyle. Our little shop on Grand Avenue in Saint Paul, Minnesota was a gathering place for college students and locals looking for 'cool threads for kind heads'. Since those days, Soul Flower has made a few changes… they no longer have a retail store, but have expanded with a digital catalog, an online retail shop, a wholesale catalog, and a screen printing team. One thing that hasn't changed is our dedication to offering our customers thoughtful, eco-friendly clothing styles at an affordable price – and of course the best customer service anywhere!
In 2014, Soul Flower contacted Eric Moen at SJF to assist in a new addition to their expanding warehouse, and he was happy to oblige.
Advantage Sign and Graphic Solutions, a national leader in the sign and graphics industry for over 20 years, has been a client of SJF's since 2011.  Recently, they went though a building expansion in one of their eleven national locations, and called on SJF for a quick turnaround to meet their needs.  Advantage Sign and Graphic Solutions is a top rated website with over 400 ratings and a 5 star rating.  This project and material was coordinated by Jason Deiter at SJF.  He can be reached at jdeiter@sjf.com.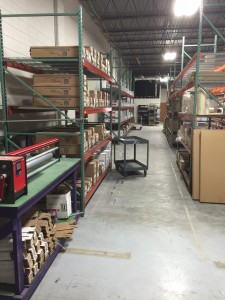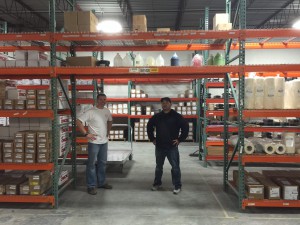 More than twenty years ago, United Mailing Services, Inc. (UMS) got its start in the owner's basement. That was in 1989 when mail was sorted by hand. Since then UMS and the United States Postal Service have gone through many changes. By 1997 UMS expanded throughout the entire state of Wisconsin. Being a privately owned business which does work share with the United States Postal Service, UMS has become a leader in the automation industry.
UMS serves hundreds of clients, ranging from small local businesses to Fortune 500 companies throughout Wisconsin. In 2011 they expanded their business once again by offering high-speed digital color print to better serve the needs of their customers.
Cameron's Coffee is a Minnesota based premium coffee roaster, with a unique roasting and packing plant made to deliver the freshest and smoothest coffee around.  Focusing on sustainable practices and minimal carbon footprint, they are a leading provider of coffee across the nation.
With all their roasting done locally in Minnesota, and with a boom in coffee drinking, Cameron's was in need to consolidate and simplify their operations.  They contacted SJF to assist in a three phase move into a larger warehouse.  Three existing coffee storage warehouses were consolidated into the new larger warehouse, along with their display fabrication shop.
Excel Industries is a leading manufacturer of turf care products.  Excel Industries produces the Hustler Turf Equipment and BigDog Mower Company product lines in their single production facility in Hesston, Kansas.  As the producers of the first zero-turn mower in 1964, Excel Industries has a long history of turf equipment experience.  In late 2012 Excel Industries entered into the mass market arena with the introduction of the Raptor product line.