Info, Tutorials and How To Guides
Tag Archives: cantilever
Eric Thovson (ET) from the Sales department explains cantilever racking and why it's an excellent solution for heavy duty storage shelving in a variety of different applications.
For more information and to see more, check out our Cantilever Racking Page.
GPM Inc, Headquartered in Duluth, MN makes use of SJF's "Good-as-New" Cantilever Racks to store steel components (bar stock, pipes, etc.)  GPM manufactures and distributes the toughest, most reliable submersible and horizontal slurry pumps found anywhere in the world…and they're located right here in Northern MN – who knew?
GPM called SJF because they were looking for a solution for organizing their extra building materials to get it off the ground and out of the way. They evaluated both new and used cantilever racks. Rhonda (their SJF Salesperson) took pictures of the used Monarch cantilever racks that we had on-site and sent them to GPM.  They liked what they saw, and were able to save around 40% off new prices on these used cantilever racks.
More Photos
SJF currently has more cantilever rack in-stock than we have ever had before.  Structural, Lodi & Webb styles – all currently available and shipping from MN (and for a limited time Maine, too!)  Be sure to read the entire article to learn how you can get an instant $50 savings on a cantilever rack order.  
Structural Cantilever Rack
Just removed from two Home Improvement stores – one in MN and the other in ME.
This material in these sizes and capacities is inherently hard to find and sells quickly!
Shipping from MN
16′ Uprights and 36″, 46″ & 54″ Arms.  Brace Sets Also Available.
Click for pricing and more photos.
Now Shipping from Maine (material is currently disassembled and awaiting shipment to our MN location)
16′ Uprights and 36″, 46″ & 54″ Arms.  Brace Sets Also Available.
Click for pricing and more photos.
As Always – This equipment is available on a first-come, first-served basis.  SJF encourages customers to inspect this equipment prior to purchase.  If you would like to view this cantilever, please make an appointment with an SJF sales representative by calling 800-598-5532.
The past week has brought more cantilever rack into our yard at SJF than we have seen in an entire year!  Two large purchases; one local and one on the West Coast, have brought in large quantities of mint condition cantilever.
Our last purchase of this style and size cantilever barely hit our yard before it was sold and loaded onto a customers truck.
As expected, this is no different, with multiple orders against this material already.  This rack is moving very quickly, so act fast if you want in on this latest purchase!
Lodi Cantilever:
20′ Column and Base: 200ea
16′ Column and Base: 20ea
48″ x 2,000# Capacity Arms: 2,133ea
Monarch Structural Cantilever:
16′ x 8″ I Beam Column: 202ea
54″ Bases: 201ea
54″ Arms: 721ea
46″ Bases: 20ea
46″ Arms: 135ea
36″ Bases: 13ea
36″ Arms: 37ea
32″ x 5′ X Bracing: 106ea
The end of April/beginning of May has been a busy time here at SJF.  The last month has brought in equipment from across the board, including conveyor, pallet rack, rack systems, and cantilever.  April started out with a string of local buys.  A large retail store closed multiple locations across the Minneapolis metro, and we were able to jump on some great condition conveyor.  This includes 8 Best Flex conveyors and 500ft of 18" Skate-wheel conveyor as well.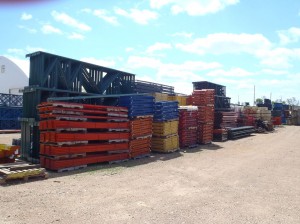 We were very fortunate to have access to a variety of systems lately, and many came into our yard for stock.  Systems brought in this month include the following drive-in rack and push-back rack systems:
3 Deep Back-to-back Ridg-U-Rak Drive In
5 Deep Ridg-U-Rak Drive In
3 Deep Structural Drive In
3 Deep Interlake Push Back
4 Deep Interlake Push Back
3 Deep Advance Push Back
6 Deep Advance Push Back
Needless to say, we are loaded with rack systems!  These are in great shape, and all are in stock now in Minnesota.
Continue reading
SpaceSaver Steel Roll-out Racks
These racks are not only hard-to-find in used condition – but also hard to find used in this good of condition.  Similar to cantilever rack – these are used to store long bar or pipe stock.  These racks however, function quite differently.  To store or retrieve materials from the rack, an employee has to crank out a "drawer" on the unit that is then accessbile by crane from above. Each insividual "drawer" or "shelf" can be accessed independantly from the others, and offers very safe and secure storage.
4 ea. Currently Available
4200#/Shelf Capacity
Each 'shelf' is 36″ deep
Cost When New: $14,000 ea.
Used, As-Is Price: $9,995 ea.
Get your free warehouse rack guides in a handy "Grab & Go" format.  These highly useful, illustrated Warehouse Rack Guides are now available for immediate download to your computer.  You'll learn lots of information on…
How to properly size warehouse racks
Proper usage of racking
Types & styles of racking
Useful Terminology