Info, Tutorials and How To Guides
December 2013 Update
December 11, 2013
Posted By:

SJF Material Handling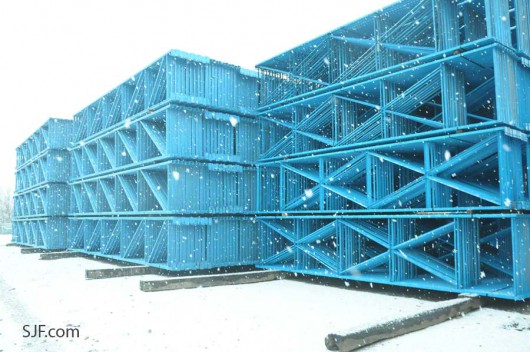 Though the weather is grown cold (-10 at the time of this writing) and the blog has been a little dormant – rest assured, dear readers that behind the scenes we are very busy at SJF.  December has seen a massive influx of pallet rack, drive-in rack systems, and complete conveyor systems for sale.  SJF currently has over 10,000 beams and 1,000 good quality uprights available for immediate sale in our Winsted, MN inventory.

Brands include: Teardrop, Ridg-u-Rak, Republic and many more.
SJF also has available several drive-in racks currently available – from Interlake, Unarco, Ridg-u-Rak and more.
Also of note – SJF is taking receipt of this very large pick module (which we originally installed less than 10 years ago) and all of its packaging lines.  We're working to get all of these individual conveyor lines on the website – broken down into their constituent parts, however at this time, we can still sell the entire system as-is.  Please call an SJF representative if this is something you're interested in.