Hello again, readers!
Today I'd like to tell you about some improvements we have going on at SJF's headquarters in Winsted, MN. These updates are part of an initiative to make the shop safer and production easier on the employees. First, SJF is installing a brand new crane-way. This overhead structure will allow workers to more easily move rack, conveyor and carousel projects around the shop easily.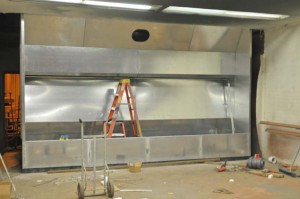 The second major improvement is a brand new paint booth. This new paint booth uses a waterfall to capture over spray and then scrubs it out of the water and reuses it. It's environmentally friendly and should prove to be safer for all of the employees in the building.
Speaking of improvements to the workplace, SJF is also in the process of switching over computer systems. In the past, SJF has been using multiple software solutions for different areas of the business. Going forward after the first of the year, SJF will be tying ALL facets of the business into the new software solution. Everything from CRM, Order Management, Billing, Shipping and Manufacturing will be together in one software. We are hoping this makes for a smoother customer experience overall as well as a more efficient work force.
How about you?
Are you doing any improvements to your business now or in the near future?
We'd love to hear about your improvement projects in the comments below!