Info, Tutorials and How To Guides
Archives: Pallet Rack
In another edition of ET-TV, Eric Thovson (ET), Sales Professional at SJF Material Handling, explains what you need to know about measurements and capacities to choose the right pallet racking beams. See more at our Rack Type Identification Guide page.
From managing logistics and layout to ensuring optimal safety and efficiency, warehouse workflow is more than just the speed of output. A quality warehouse manager knows how to utilize their best tools to achieve maximum optimization but even the elite need a refresher of best practices to keep things running smooth.
Here's our list of 7 Tips for an Improved Warehouse Workflow:
1. Laying out the warehouse for optimum space utilization
The most important job of any warehouse manager is to determine how to best use the available floor space to store and move product. Especially in high dollar real estate markets, every inch counts! Ideally, the process begins with a complete drawing of the space including posts, sprinklers, windows, doors and any other architectural fixtures that will have to be taken into account. Then, the warehouse manager must clearly understand the inbound and outbound operations with the goal of maximizing space utilization while also saving time and reducing errors as product is moved in and out of the warehouse.
2. Using the proper type of storage systems
Choosing the proper type of storage system is an essential component of warehouse workflow efficiency. Understanding what is being stored, how much of it is being stored and how often it needs to be accessed will determine the most efficient storage system to use. Factors such as product expiration, temperature requirements and product demand must also be factored into the type of storage system chosen. Storage systems can be mixed and matched to meet the various product rotation needs within the warehouse. The speed and frequency of vehicles (such as forklifts) moving through the warehouse will dictate the durability requirements of any storage system.
3. Picking optimization
Within the warehouse layout, pick routes must be carefully planned. Minimizing travel through the warehouse will result in significant time savings and reduced potential for accidents. No matter how large the warehouse is, the amount of time spent picking product represents a significant part of costs. Organizing pick routes to match pick lists is a great way to reduce going back and forth through the aisles.
4. Properly managing inventory
A surprising number of companies do not know exactly how much inventory they have and exactly where it is stored. It is impossible to run an efficient workflow without this knowledge. More organizations that do a good job of inventory management are adopting lean inventory practices—only storing what is actually needed. The benefits of lean inventory management include time savings and waste reduction which translate to cost savings. Inventory must always be properly labelled to ensure proper counting, storage and retrieval. There are a number of different ways to keep track of inventory, from manual processes to highly automated, integrated systems.
5. Using Technology
While some companies are still using spreadsheets and other manual systems to manage their operations, the vast majority have adopted at least some technology to help them manage their warehouse. There are a plethora of WMS (warehouse management system) options available today that can help you manage standard as well as daily tasks such including labor, inventory, order processing, SKU handling, stock location and more. WMS's can be standalone systems or part of a full ERP (enterprise resource planning) system. Always make sure WMS modules are linked and integrated to ensure smooth operation of the system as a whole and that users are fully trained on all software systems. Aligning IT and operations for a common understanding of business processes is a must.
6. Keeping the Warehouse Tidy and Orderly
Cluttered and disorderly aisles not only create safety hazards, they greatly impede the ability to move through the warehouse efficiently. Allocating even a little bit of time every day to clearing the aisles will immediately improve workflow. Consider posting SOP's where appropriate, within the warehouse.
7. Maintaining Health and Safety Best Practices (including training)
Worker safety is of utmost importance to any company. Making sure workers are fully trained to do their jobs before they start doing them is always the best practice. Spending more time training will pay back many times over in not only accident reduction but error reduction as well. Consider cross-training workers to be able to perform more than one type of job so you can keep your operation moving at all times. Provide refresher training to make sure all workers are current in your processes and work standards. Clearly marking travel paths, for forklifts and people, and keeping them clear of clutter is essential to creating a safe work environment. Having proper lighting will reduce potential errors in product picking as well as improve the overall environment for the workers. Posting health and safety rules and regulations where everyone can see them is required by law.
Optimizing warehouse workflow is essential to optimizing profits. As inventory and storage needs change, warehouse design should be revisited and amended as practically as possible.
---
About the Author: Jeff Howard is the VP of Sales for Advance Storage Products, a structural rack systems manufacturer. Jeff has over 15 years in the material handling industry and holds a BA in Economics from Denison University.
SJF Supports Edina High School Marching Band Uniforms… Literally
There are many, many ways to use different types of racking for storage in all kinds of environments. Here you see how Edina High School set up their storage area for the Marching Band uniforms and props.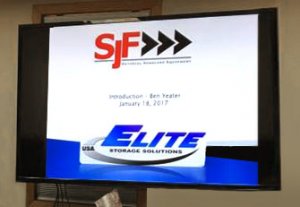 A big shout out to Ben Yeater and Elite Storage Solutions for stopping by SJF last week. Ben was gracious enough to feed the entire sales team during his blow-by-blow video tour of Elite's new and expanded storage rack product offerings for 2017.
Michael McGullam from Leisure in Montana in Billings, Montana called SJF Material Handling looking for a racking solution to get his large, bulky hot tub covers up off the floor and stored in a more efficient manner. He and Kendal Kalamaha, SJF Solutions Specialist, discussed some possible pallet racking sizes and options, along with possible alterations.
One of the challenges they found was dealing with the freight to Montana, so Kendal was happy to work with him to maximize the order to get the best bang for the buck.
The Process of Building Racking, Step by Step
Watch the process unfold as Michael receives and builds his custom pallet racking storage for his business:
 In this short tutorial, Material Handling veteran Jason Dieter shares some insider insights about the different styles of beams that work with the many versions of teardrop style pallet rack. Jason not only demonstrates the difference between old style and new style racks, but also reveals some of the hybrids found in the marketplace as well.
SJF Material Handling, partnering with David Weidenfeller at Interlake Mecalux and Mike Pemrick at Lock N Load Installations, replaced an older pre-existing drive-in system at Triple J Family Farms. Despite working in a cooler, the Lock N Load crew was able to complete the job within a day.
Jason Deiter, sales professional at SJF can be reached at 320.485.4961 directly, or at jdeiter@sjf.com.
In this short video tutorial, Eric Moen gives a quick tour of the uprights available in the rack warehouse while reviewing the many sizes & capacities currently available for fast 48-hour shipping  via SJF's "Quik-Ship" program.
Pallet Rack Uprights