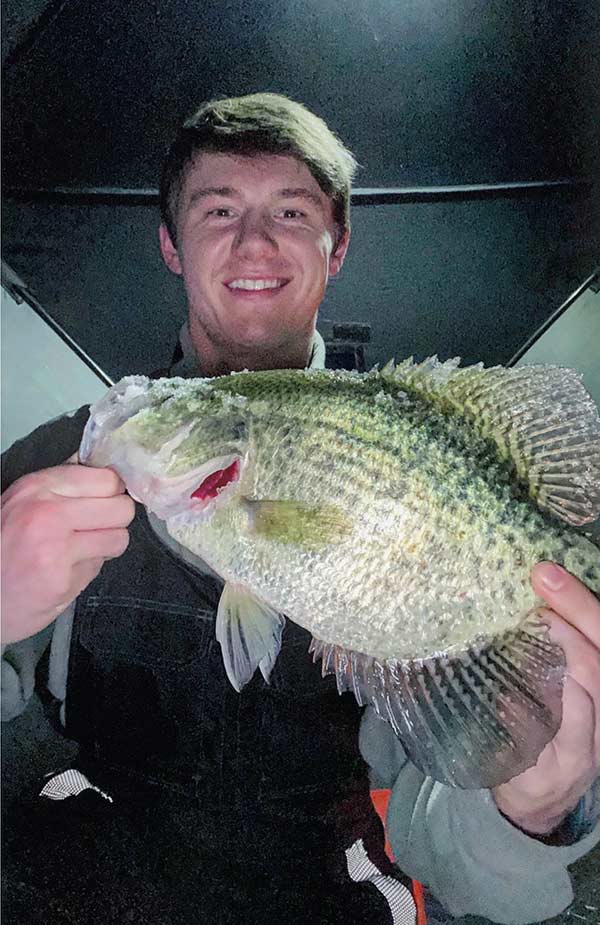 This last year was a rough one for all of us. Everything was different and we all were left on our own to figure out how to entertain ourselves and our family members safely.
Justin Erkenbrack, SJF Solutions Specialist, had a pretty great weekend of safe entertainment this winter with his fiancé, kids and the wide open ice of a Minnesota lake. Not only did they have a great time, he caught himself a monster!
In Minnesota, we take our fishing seriously. Many people spend half of their life in search of "the big one" (literally, and this is no joke to the serious fishermen!), so to catch this one was a rare moment!
Justin's 16″ crappie is easily considered "trophy sized" by any fishing expert's standards (and believe us, there are a lot of self-proclaimed fishing experts around this area). I know this because I fact-checked the info by Googling "What is considered a trophy sized crappie".
The definition from this highly scientific source, otherwise known as Google, was as follows:
That depends on several things – the body of water you're fishing, the state in which you fish, how big a crappie you've caught before. Speaking in generalities, however, any crappie over 1 1/2 pounds is an exceptional fish, and for most anglers in most waters, a crappie over 2 pounds would be the trophy of a lifetime.
This beast weighed in around 3 lbs. and was caught using a minnow head and a jig given to him by none other than, and I quote from Justin himself, "The legendary fish slayer" and another of SJF's Solutions Specialists, Tom Moore.
Being true Minnesotans, we were all excited for him and feel he has secured bragging rights for a good long time for this one! Maybe it will give us all something to shoot for next time we take to the lake, whether it be frozen or not.