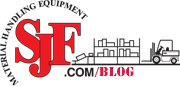 The resource for all things material handling.
New Video – 4 to 1 Merge
SJF has just uploaded several new videos to our YouTube channel. (SJF's YouTube Channel) We'll be featuring a new video from this series every few days.
This video shows a 4 to 1 merge system where boxes are queued up to join 1 conveyor line.  Notice how the photo-eye sensors prevent collisions when there is the potential for a box to collide with another.
View conveyor merges and spurs available for sale on SJF.com