What is Pallet Racking?
Pallet racking is a material handling storage rack system designed to store products and materials on pallets in horizontal rows and on multiple levels. Pallet racking is made up of horizontal cross beams that attach to vertical upright frames - thus creating industrial shelving to support palletized material that can be easily accessed by forklifts.
One of the most popular types of pallet racking is "teardrop" pallet rack. Tear drop racks are made by several manufacturers in the USA, including Wireway Husky Racks, Steel King, Interlake Mecalux, Hannibal, Ridg-U-Rak, Speedrack and more.
Optional accessories like wire decking, column protectors, row spacers, storage bins, racking protectors and safety guards are often purchased in addition to heavy to light duty pallet rack. Kits are also a popular alternative, as they contain all the component parts to make up starter units or add on units. Kit capacities vary and are available to provide storage shelving for light duty, medium duty and heavy duty warehouse racks.
A pallet rack starter section/bay is made up of horizontal uprights and multiple beam levels that often utilizes wire mesh decks on top of roll formed step beams. This configuration creates wire shelving levels that can be used for picking rack and provides users a warehouse storage system tailor-made for storing pallets of raw materials.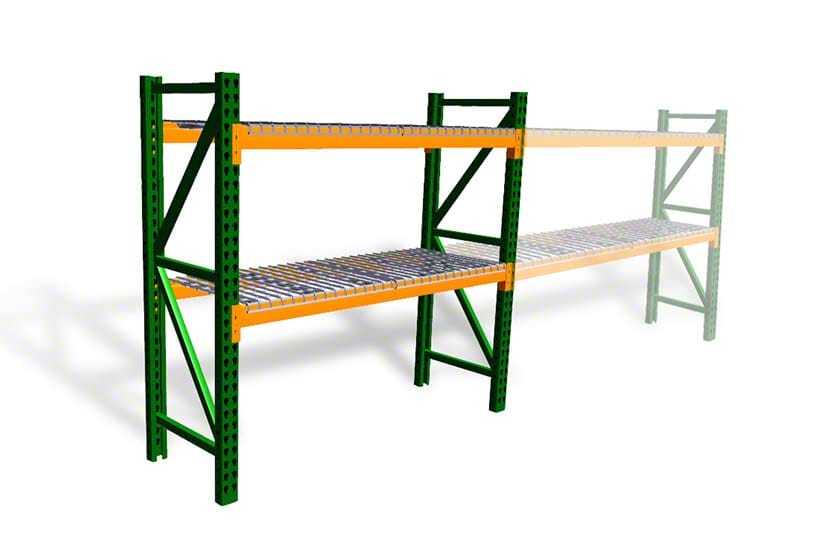 Pallet rack is also known or referred to as:
Storage shelving
Bulk storage racks
Teardrop racks (or tear drop racks)
Warehouse shelving racks
Warehouse racking systems
Warehouse racks
Lumber racks
Drive in racking (or drivein rack)
Drive thru racking (or drive through rack)
Push back rack
Warehouse mezzanines
Pallet racking systems
Warehouse pallet shelving rack
Storage racking
Warehouse storage racks
Industrial pallet racks
Industrial storage racking systems
Pallet rack systems
Pallet racking storage systems
Storage shelving systems
Rivet shelving racks
Record storage racks
Pallet steel shelving
Pallet metal shelving
Pallet racks cantilever
Furniture cantilever
SJF carries a wide variety of new & used pallet racks brands and styles to suit your individual home or warehouse shelving storage needs, as well as many industrial racking accessories and components to add on to or customize the individual needs of each storage area.
Pallet Rack Specifications
Pallet racking systems parts:
The main components used in a pallet racking system are upright frames and beams, or cross beams. Uprights and columns are very customizable and come in many different sizes to fit almost any storage neads.
Pallet Racking Upright Frames - Pallet rack uprights (aka upright frames) are the vertical supports in a pallet racking system. To build a pallet racking structure, two upright frames are needed on each side to support horizontal beams.
The system can be added on to in the future and once the first structure is in place, only one additional upright is needed per bay to add on to a current rack system. Upright frames come in various heights and post sizes depending on the height, strength and weight capacity needed and are highly customizable.
Pallet Racking Beams - Pallet rack beams are the horizontal weight-bearing support that connects the upright frames to each other. Beams are available in many combinations of different lengths, heights and gauges and are dependent on the size of the racking needed and the weight and dimensions of the items stored on the racks.
They also come in either a step style or box style, which allows the use of optional over-the-top or drop-in supports or wire decking. Pallet rack beams can be adjusted to whatever height from the ground is needed and can be easily removed and readjusted to a different level for future changing needs.
Bolts, clips or fasteners - Depending upon the warehouse shelving brand, sometimes bolts, clips or fasteners are required to assemble the rack.
Optional pallet racking accessories:
Once the pallet warehouse racks are constructed, there are many different accessories or components that can customize the pallet racking system to fit the individual needs of the storage area. Here are a few examples of different accessories that can be added:
Warehouse Racking Installation
In addition to stocking a wide variety of warehouse equipment, SJF Material Handling employs highly trained crews that specialize in pallet racking installation and pallet rack repairs, as well as installations and removals of cantilever racking, selective pallet racks, structural pallet racking systems, drive in pallet racks, carton flow racks, gravity conveyors, powered conveyors and other material handling and warehouse equipment.