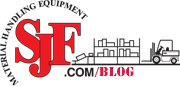 The resource for all things material handling.
New Video – Push/Pull Sortation
SJF has just uploaded several new videos to our YouTube channel. (SJF's YouTube Channel) We'll be featuring a new video from this series every few days.
This video shows Carton Pushers/Pullers In action. The first station is a push sorter. This sort bar rests below the conveyor rollers and is activated when bar-code scanner reads a specified code. The box then moves down the line until it reaches a second sort point. This sort is done using a pneumatic arm that pulls the conveyor onto its correct destination path.
View sortation conveyor currently available for sale on SJF.com