SJF is an authorized distributor for the following companies.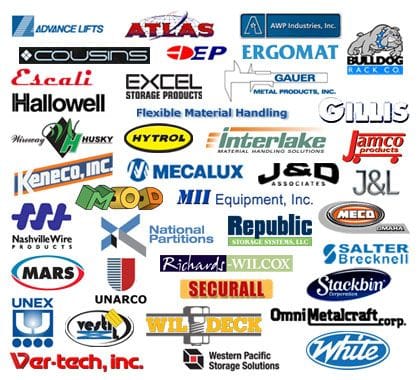 The picture above shows Advance Lifts, Atlas, American Wire Products, Bulldog Rack, Cousins Packaging, EP, Ergomat, Escali, Prest, Flexible Material Handling, Nestaflex, Gauer, Gillis, Hallowell, Wireway, Husky, Hytrol, Interlake, Jamco, J & D Associates, J&L Wire, Keneco, Mars Air, Mecalux, Meco, MII, MOD-Roto, Nashville Wire, National Partitions, Omni Metalcraft, Republic, Richards Wilcox, Salter, Secureall, Stackbin, Unarco, UNEX, Spantrack, Vertech, Vestil, Western Pacific, White, and Wildeck.
While we'd like to include ALL of our partners, we simply do not have the space on this page. This list represents the companies we are in touch with on a regular basis and represents a large portion of our product line. Thanks to all of our partners who have helped make SJF the nation's premier material handling company.