Info, Tutorials and How To Guides
SJF's Material Handling Blog
May 13, 2013
Posted By:

SJF Material Handling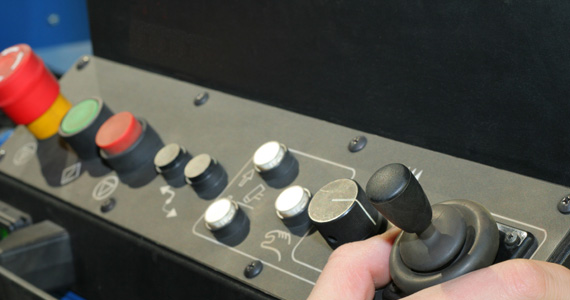 Machine controls are used in the construction industry to monitor and accurately position excavator and backhoe booms and buckets, grader blades and more. Many different systems are available and offer 2D or 3D measuring and monitoring of the position of the bucket, boom and/or blade to different accuracies. The recorded measurements are displayed on a computerized panel mounted within the cab.
The goal of these different control systems is to allow the operator to accurately dig without ever leaving the cab. The difference in the available systems is how accurately the information is displayed, machine automation and how much training or experience is required to use the system properly.
History of Machine Control Systems
For years, companies have developed machine control systems. They use different methods of measuring and reporting including mounted sensors, lasers, and even GPS. But in the early 90s, before this modern technology was available, companies used analogue technologies to measure things like bucket depth.
Companies like Novatron began developing GPS systems in 1999. New technologies like digital screens, GPS, laser measuring tools and mounted sensors were introduced in the start of the 21st century. Companies like Moba, Excavator solutions and Novatron are now leaders in 3D machine control systems.
Continue reading