How to Configure Pallet Racking Systems
Pallet racking may seem difficult to size and configure, but we've laid out 3 simple steps to get you started and on the road to setting up your own pallet racking system.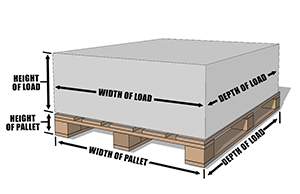 Step 1: Size the Product
Measure the pallets: Start by measuring the width, depth and height of your pallets (typical pallets are 40" wide x 48" deep). You'll also want to keep a little room between pallets to give yourself leeway when loading and unloading the rack. Keep note of this measurement as the rest of the steps will rely on these figures.
Determine the heaviest load weight: Also important is the weight of the heaviest load you will be storing. Keep in mind, you must also include the weight of the pallet.
Step 2: Select Beam and Upright Sizes
Determine shelf width: Now you will determine (based on the previous measurements) how wide your shelves need to be. For example, if you have a typical pallet, you have 80" of load on your shelf (based on two pallets per shelf) and with 4" on each side of each pallet, you'll need at minimum a 96" beam.
Determine necessary beam capacity: Once you have the rack width established, you'll need to select the correct capacity beams for your load. Each shelf level will require two beams.
Determine upright height and depth: Choosing the uprights is as simple as figuring out how many shelf levels you want to have and using your pallet height to determine the needed upright height. Also keep in mind both load and total shelf capacities when choosing the correct upright. Upright depths will be strictly based on the depth of your pallets. You must keep the entire pallet load balanced on the front and rear rack beams.
Step 3: Add It Up
Determine quantities: Now you can determine the total number of beams and uprights you'll need for your planned storage system. Remember, you can use one upright as a connecter for multiple bays of rack. Two racks in a row can share a center upright as long as total shelf and upright capacities are within range.
Below you can see profile views of three separate pallet rack layout styles. At left is a single row of free standing pallet rack. Center is two rows of pallet rack setup back to back and tied together in the center. At right is a single row of pallet rack placed against a wall and tied to the wall using wall supports.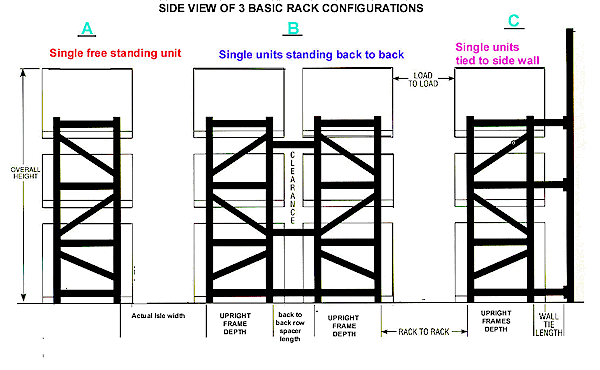 Features & Benefits of Pallet Racking
Standard color is green uprights & orange beams, but other colors are available by special order
Beams and uprights are constructed of prime, US made high-strength steel
Beam load ratings based on uniformly distributed load per pair of beams.
Uprights have 1 ½" wide bottom horizontal brace placed 8" from the floor to help resist impact damage
Precision manufacturing procedures ensure uniformity of appearance