Storage Racking Basics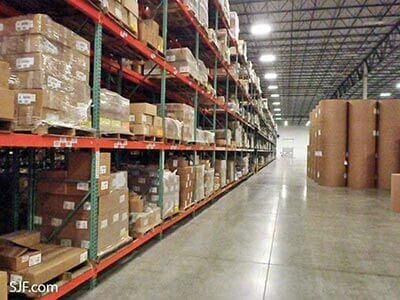 What is Pallet Racking? What is it Used For?
Wondering what pallet racking is? Warehouse pallet racking is a material handling storage system designed to store products and materials on wood pallets in horizontal rows and vertical levels. Horizontal beams attach to vertical upright frames, creating industrial shelving to support pallets of material that can be accessed by forklifts.
What is Teardrop Pallet Racking?
The teardrop design assembles quickly and is a popular storage shelving system designed to store materials on wood pallets in rows and levels. Teardrop rack is popular due to its slide-in teardrop shaped punched hole design, which is used to lock the horizontal beams to the vertical uprights for quick and easy assembly. Many rack manufacturers utilize this teardrop design, which allows for flexibility in mixing and matching different manufacturer brand parts.
Frequently Asked Questions about Pallet Racking
Used pallet rack beams can start as low as $15 each and used pallet rack uprights can start as low as $55. Prices depend strongly on size and condition of the material. Purchasing used pallet racking is a very popular choice for many businesses needing industrial shelving and storage. Often it is in like-new condition and can save quite a bit of money if purchased from a reputable dealer.
Standard duty pallet racking typically holds from 15,000-18,000 lbs. For heavy duty racking, the weight capacity can typically range from 25,000 to 30,000 lbs. The amount of weight that it can hold depends on the size and density of the pallet rack.
View tips on how to configure your own rack installation with our Pallet Rack Assembly Guide.
There are many different types of pallet racking for different spaces. Here are a few of the more popular types used for industrial storage:
Teardrop pallet racking is one of the most popular types of pallet storage systems used today. Teardrop rack uses a slide-in teardrop shaped punched hole design, which is used to lock the horizontal beams to the vertical uprights for quick and easy assembly without hardware.
Drive in pallet racks store pallets on a First In/Last Out (FILO) basis. Pallets are loaded and retrieved from the front side of the drive in rack and forklift trucks drive directly into the rack's bays to get to the stored product. The last pallet loaded into the rack becomes the first pallet accessible.
Drive through racking works similarly, but stores pallets on a first in/first out (FIFO) basis. Pallets are loaded on one side of the rack and retrieved from the opposite side.
Push back racking uses a selective rack structure with a rail and cart system. Pallets are set on nested carts or trays that can be pushed backwards along rails in the rack frame itself. The rails are on an incline and fed by gravity, so the most recently added load is always in the front of the rack. The pallets are easily loaded and unloaded on a "Last In, First Out" (LIFO) rotation.
Case and carton flow rack uses gravity rollers or skatewheels in the rack shelf itself to allow product to be loaded from the back and flow to the front, which is the pick side. Carton flow racking (or case flow racking) provides FIFO (First In, First Out) inventory control.
Pallet flow rack is a First In, First Out (FIFO) system that utilizes gravity roller tracks to form a gravity flow lane. The tracks are set with a decline pitch which allows pallets to move by gravity from the in feed side (rear) to the pick side (front).
Span-Track is a product manufactured by the Unex company and is similar to carton flow rack. Unex Span-Track uses gravity rollers to flow product from the back to the pick side in the front. Span-Track provides FIFO (First In, First Out) inventory control.
Cantilever racks are steel shelving units with long arms that extend from metal frames used to store long, bulky or awkward materials. They are used to store items such as furniture, lumber, PVC, metal pipes, steel bar stock, plywood, steel sheets, sheetrock and even cars. Cantilever racks are configurable in countless different ways, allowing a flexible solution to fit any type of storage needs.
Selective pallet racking uses an aisle to access each pallet, offering easy accessibility to every pallet, as well as utilizing the available vertical space.
Pallet racking bays are the sections in a racking system that have an upright on each side.
Pallet racks can be up to 240" high.
Pallet racks efficiently use otherwise wasted available vertical space by creating a shelving system with many options available. Forklift trucks are used to load and unload the materials on and off of the rack shelves, increasing warehouse efficiency and saving stock picking time.
Pallet racking is available in many different styles and capacities to fit the needs of a warehouse. There are many types of pallet racking, but teardrop pallet racking is the most popular because of it's ease of assembly and flexibility in mixing and matching brands.