Vertical Carousel Automated Storage Features & Benefits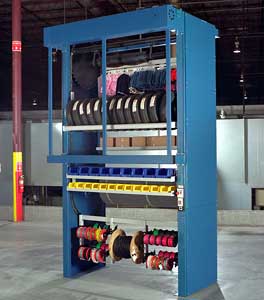 Automated vertical carousels can save up to 70% of the valuable floor space taken up by traditional storage solutions. These units can also minimize dependence on forklifts and ladders and provide a more ergonomic workplace and better inventory management.
Economical solutions for many different applications
Automated storage carousels can handle small parts, totes, tires, rolled goods, spools and more
Floor space savings of up to 70% over traditional storage methods
Up to 30,000 pounds total weight capacity per carousel
Custom sizes and applications available
Simple push-button controls for easy operation
SJF offers a wide variety of motorized vertical carousel storage solutions designed to handle everything from small parts in totes to tires, industrial rolled goods to spools - and almost anything in between and can be custom built in various heights and widths.
---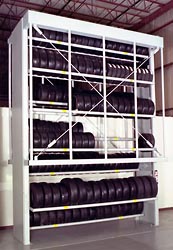 Tire Carousel Storage System
Tires are easily stored and remain visible for easy retrieval
Take advantage of vertical space
Minimize lift truck and ladders use
Better retrieval times
Increased productivity
Allow customers to view tires safely
Eliminate time wasted searching for misplaced tires
---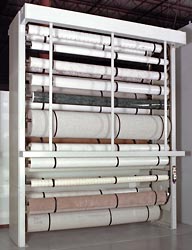 Carpet Carousels & Linoleum Carousels
Store and retrieve carpet, linoleum and other bulky rolled material
Utilize vertical space for bulky rolls
Measure and cut material directly from the carousel
Organize inventory
Variety of heights and widths
Three weight classes up to 30,000 lbs.
Quick and simple operation
---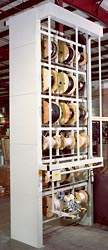 Wire Carousel Storage - Spool Carousel Storage Solutions
Store industrial spools and measure material as you retrieve them
Organize and store spooled goods
Find the 'right' spool quickly
Optional counter and collier measures precise amounts
No lifting and moving heavy spools
Oversized spool designs are available