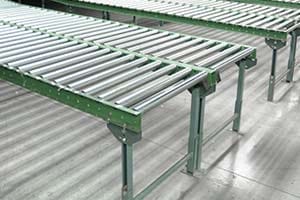 Gravity Conveyors are non-powered, free flowing conveyors used in a push or level application to facilitate product movement. They can also be set up with declining stand heights to allow product to flow from a high to a lower elevation. Gravity conveyors are available in skatewheel gravity conveyor or gravity roller configuration. Both types can be used with a variety of powered conveyors to form a complete conveyor system.
Several types of gravity conveyor are available for different applications. Below are some images and information on the different types and uses of gravity conveyor. If you have any questions about the best conveyor solution for your operation, please contact an SJF sales professional.
---
The type of load will determine the type of conveyor to use.
Load Description
Gravity Conveyor Style
Weight
Conveyor Type
Skatewheel
Skatewheel
Roller
Roller
Average Pitch Required for Gravity Flow

(per 10 foot section)

Smooth Flat Surface
Level
Incline
Level
Incline
0-5 lbs.
5-25 lbs.
25-40 lbs.
40-80 lbs.
Over 80 lbs.
Hard (Tote Pans)
A
A
A
B
Flow Is Marginal - Do Not Guarantee
2-1/2"
2"
1-1/2"
Potentially a Dangerous Load - Contact SJF
Soft (Cartons)
A
A
A
B
6"
6"
5"
Convex Surface (Some Totes)
A
A
B
B
4"
3"
3"
Concave Surface (Chime Drums, Some Totes, Boxes)
X
X
A
A
3"
3"
2"
Plyable (Bags)
B*
B*
X
X
-
12"
10"
Mesh (Wire Baskets)
X
X
B
B
3"
3"
2"
Legend:
A = Best Option
B = Second Choice
X = Do Not Use
* = Special laned pattern must be used only for dense packed multi-wall paper bags.