What is Warehouse Pallet Racking?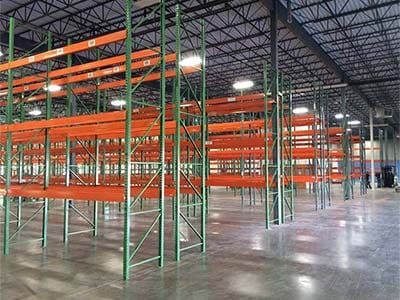 Pallet racking is a material handling storage system used to store items on pallets. The pallets are stored in horizontal rows and on multiple vertical levels. Warehouse storage on pallet racks efficiently uses otherwise wasted available vertical space and improves over-all organization in a warehouse. To access the palletized materials, forklift trucks are used to load and unload the materials on and off of the rack shelves, increasing warehouse efficiency and saving stock picking time.
Pallet racking is available in many different styles and capacities to fit the needs of a warehouse. There are many types of pallet racking, but teardrop pallet racking is the most popular because of it's ease of assembly and flexibility in mixing and matching brands.
Warehouse Pallet Rack Parts: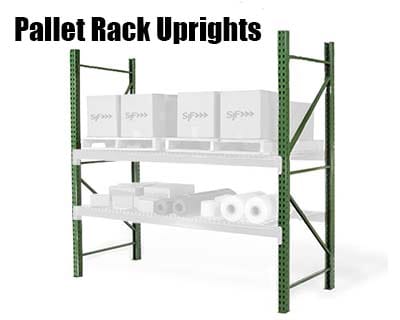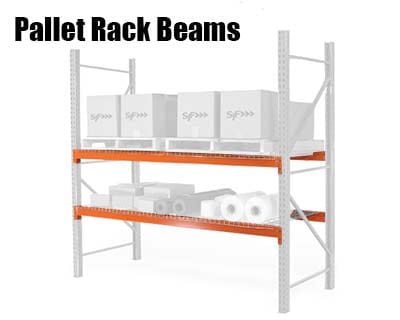 Pallet rack uprights (aka pallet rack columns or upright frames) are the side supports for the structure. They determine the height and depth of the pallet racking system. Uprights are available in many different heights, widths and post sizes to support a variety of weight and capacity requirements.
Pallet rack beams are the heavy duty rails that connect the uprights together and create the shelves of the pallet rack. The beams also determine the width of the structure. Beams are available in many lengths and heights to accommodate weight and dimension requirements of stored materials. Beams are also available in two different styles - step beam style or box beam style. The style of beam allows for the use of optional supports or wire decking.
Pallet rack beams can be adjusted to whatever height from the ground is needed and can be easily removed and readjusted to a different level for future changing needs.
---
Pallet Racking Accessories
There are many different accessories available that can customize the pallet racking system to fit the individual needs of the storage area or warehouse space. A few examples of different accessories that can be added include: Wire decking, post protectors, wall ties, back-to-back ties and anchors, safety panels and straps, spacers and pallet supports, and more.
Frequently Asked Questions about Pallet Racking
Used pallet rack beams can start as low as $15 a beam and used pallet rack uprights can start as low as $50, although the prices are strongly dependent on size and condition. Purchasing used pallet racking is a very popular choice for many businesses needing industrial shelving and storage. Many times, it is in mint condition and can save you quite a bit of money if purchased from a reputable dealer. Check out our used pallet racking page pricing for up-to-date current pricing on used warehouse racking systems.
Depending on the size and density of the pallet rack, standard duty pallet racking typically holds from 15,000-18,000 lbs. For heavy duty racking, typically the weight capacity can range from 25,000 to 30,000 lbs.
View tips on how to configure your own rack installation with our Pallet Rack Assembly Guide.
When selecting a pallet rack storage system, it is best to understand the full range of pallet storage systems available, while paying attention to each of the features and benefits. Call or email one of our solutions specialists for help - they are familiar with all the different solutions available and will be happy to review your project and provide you the most efficient and cost-effective solutions available.
There are many different types of pallet racking for different spaces. Here are a few of the more popular types used for industrial storage:
Pallet racking bays are the vertical sections in a racking system that have an upright on each side.