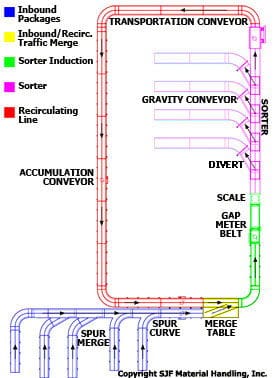 Several types of Sortation Conveyors are available for different applications. Below are some sample images and information on the different types of sorters. If you have any questions about the best conveyor solution for your operation, please contact an SJF sales professional at (320) 485-4974 (direct sales line) or (800) 598-5532. Sortation conveyor systems are large and very complicated systems and should only be installed by professional installers that are knowledgeable in conveyor and the tips & tricks of the trade.
Sortation systems complete with scanners, controls etc., often cost more than the average company can afford to spend. At SJF, we believe that you don't need to invest a small fortune to incorporate one of these sorter systems into your operation. We specialize in previously-owned sortation systems that will do everything the new systems will do for you and more. You'll have peace of mind knowing that we can provide you with everything from design, layout, programming and installation from one single source.
SJF has successfully put several systems just like the ones below into operation for customers just like you. They are all currently sorting products at a fraction of the cost than a new system would have set them back. Take a look at the different types of sortation conveyor systems we can provide.