Info, Tutorials and How To Guides
SJF's Material Handling Blog
January 14, 2014
Posted By:

Stafford Sterner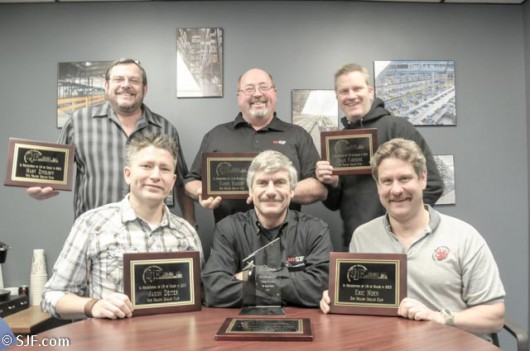 SJF's 30+ Year Tradition Continues
This year's annual Christmas Buffet & Awards event featured BBQ pork & beef with homemade corn bread, shrimp cocktail, desserts, craft beer and even some Serbian moonshine compliments of our installers in Chicago. 2013 proved to be a great year for the company as demonstrated by a record 6 member of the inside sales team qualifying for induction into the "million dollar club".
Production
2013 marked a year where the production shop turned out great product in record time. Let's face it … everyone wants it yesterday.
The yard crew also did an outstanding job pulling equipment and getting orders shipped accurately and on time. This was an amazing task on more than a few occasions to say the least. The office staff barely maintained their sanity in 2013 but rumor has it there is light at the end of the tunnel in 2o14. I for one will believe it when I see it.
Operations
Lori, Ed, Frank and the rest of the staff had their hands full in 2013 to put it mildly. Incorporating new technologies, changing processes, adding and learning new systems while continuing to process sales orders without delay or incident can prove rather challenging at the best of times. Not a feat for mere mortals – but they found a way to get it done. A great team effort by everyone here.
Continue reading