Info, Tutorials and How To Guides
Archives: Company Info

SJF Material Handling is honored to be named to Minnesota Business Magazine's "100 Best Companies to Work For" in 2018. This is the 4th time SJF has been named to this prestigious list.
Qualifications for the "100 Best" Award From Minnesota Business Magazine
Minnesota is known for being a great place to live and work, with top-notch companies in many industries headquartered here. Each year, these companies submit nominations for the 100 Best Companies to Work For Awards by Minnesota Business magazine. This award recognizes Minnesota's top companies and, time after time, helps the winners attract key employees who make all the difference.

The "100 Best" were determined by the resulting scores of an anonymous online questionnaire filled out by the employees of each participating company — to determine which companies in Minnesota excel in the areas of work environment, employee benefits, and overall employee happiness, making them the 100 Best Companies to Work For.
SJF will be honored in a celebration awards program and dinner on Thursday, June 28th at JW Marriott in Minneapolis.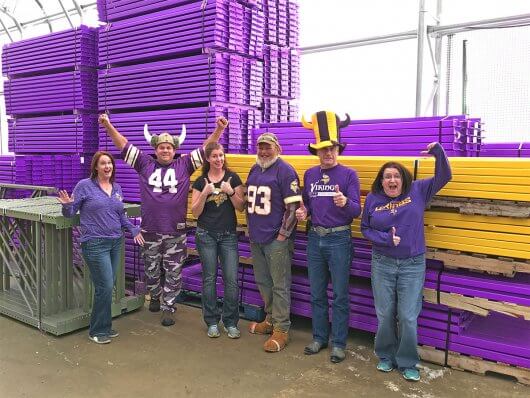 We're excited… We're pumped… This is our year and we're ready to  cheer our very own Minnesota Vikings all the way to the Superbowl! Go purple and gold!
SKOL VIKES!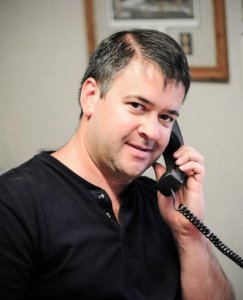 Today in our Employee Spotlight is Ed Salonek, Controller and Human Resources Manager. Ed is a busy guy but always seems to have a smile on his face and something to joke about.
It's not unusual to see him here in the office on a weekend or an evening and even then, he's smiling. Having one full time position is enough for most people but Ed takes care of two departments, and important ones at that. I'm sure he wonders occasionally what he's gotten himself into as Ed the HR Manager, but what keeps us on the straight and narrow is that we know he's also Ed the Controller, who makes sure we get paid. 🙂
Name: Ed Salonek
Title: Controller and Human Resources Manager
Years at SJF: 11 years
What do you like most about working at SJF? I enjoy the mixture of accounting and programming\customization with Epicor.
What do you enjoy doing when you're not at work? Camping, watching Wild hockey, hunting with Mocha
What's your favorite day? Saturday
Biggest pet peeve? Lazy people.
Name something about you, that people would be surprised to know: I like to work, got it from my parents.
The Sterner family, along with the SJF Material Handling family, are deeply saddened to inform our clients, friends and partners of the passing of our founder, Gerald "Jerry" Sterner on Wednesday, January 10th at the age of 87. He passed shortly after being diagnosed with pancreatic cancer.
Jerry opened the business in 1979 as SJ&F Enterprises and was a very active participant in every facet of the business until his retirement, where he turned the reigns full-time over to his sons.
He was a huge sports fan and especially enjoyed watching the Minnesota Timberwolves. He was an avid hunter and fisherman and was active in many community organizations prior to health problems. He also enjoyed extensive traveling all over the world with his wife Veronica, including The Holy Land.
Jerry was an excellent businessman and was generous and highly respected by his employees. There are many, many stories of his adventures still being shared at SJF, from driving misadventures to rolling up his sleeves and working right along with the employees. He will be greatly missed!
Service Arrangements
Memorial Mass of Christian Burial will be held Monday, January 15, 2018, 11:00 AM at St. Victoria Catholic Church, 8228 Victoria Drive, Victoria, with Father Robert White presiding. The family will receive friends 10 – 11 AM at the church. The internment will be held at a later date at Holy Trinity Catholic Cemetery, Winsted.
Obituary
Gerald "Jerry" Joseph Sterner, age 87, of Victoria, MN, formerly of Winsted, MN, died Wednesday, January 10, 2018 at Waconia Good Samaritan Society, Waconia, MN.
Jerry was born October 23, 1930 in New Germany, MN, to Frank and Anna (Schmidt) Sterner, one of 6 children. He graduated from Waconia High School in 1948. On June 20, 1953 he married Veronica Mallak at St. Adalbert's Catholic Church in Silver Lake, MN. They had five sons, two which they lost in infancy. Jerry was proprietor of Sterner Lighting, Sterner Industries, and SJF Material Handling of Winsted, MN. He was a resident of Winsted before moving to Victoria, MN. Jerry was a member the Knights of Columbus, the Catholic Order of Foresters, Winsted American Legion, and St. Victoria Catholic Church. His catholic faith was very important to him. He always wanted his family to work together. He enjoyed sports, golf, fishing, hunting and being with family and friends.
He was preceded in death by his infant sons, Gerald and Jerome, parents, and brothers, Leander and Joe.
Survivors include his loving wife, Veronica; sons, Stafford (Diane) of Bloomington, James (Paula) of Waconia, Frank (Paula) of Waconia; 7 grandchildren, Megan (Shaun) Boll, Caitlin (Ryan) Kiskis, Sam (Kelli) Sterner, Nicholas, Josh and Jesse Sterner, Scarlett (Logan) Barnes; 4 great grandchildren, Parker, Isla, William and Jack; sisters, Marie, Janet and Diane; other relatives and friends.
Every year, SJF likes to treat our hard-working employees to a catered meal and awards ceremony to commemorate the accomplishments of a year's worth of dedication. The year 2017 has been a particularly successful one for SJF, thanks to the dedication and hard work of all our employees, who work together each and every day to make sure our customers are our top priority.
We are who we are because of the men and women we call our SJF family!
Sales Awards
SJF had some outstanding sales in 2017. All of our sales people sold over $1 million dollars worth of material handling equipment to our loyal customer base.
Winning the top sales award this year was Eric Thovson (ET) for the second year in a row, followed by Kendal Kalamaha and Jason Dieter. Way to go!!
---
Anniversaries
We also like to celebrate anniversaries with the company and are proud that the majority of our employees have been employed with SJF for 10+ years. This year marked an important anniversary for one of our long-term employees, Dave Kieper, who has been with our company for an impressive 25 years. Thanks for all you do Dave!
---
More photos of our celebration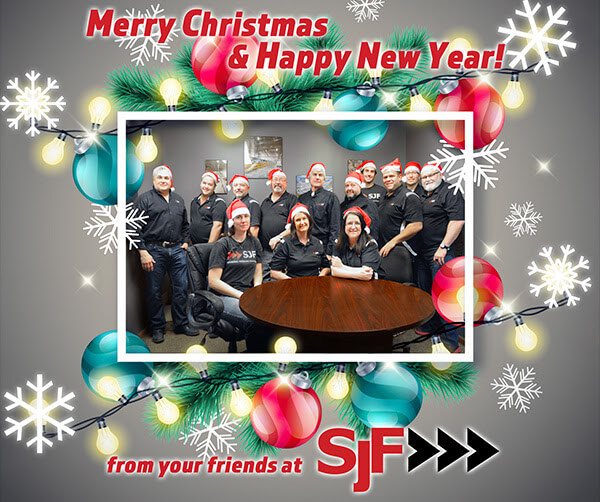 From our 

SJF

 Family to Yours –
Wishing you a
Bright Holiday Season