Pallet Racking Styles
Pallet Racks By Brand
How to Create Tire Racks from Pallet Racking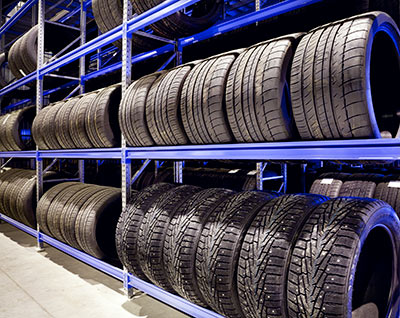 We offer an innovative tire storage solution that combines the efficiency of pallet racking with the convenience of specialized tire racks. Upgrade your tire storage with high-quality tire racks using pallet racking.
This is a simple and innovative solution to the problem – these sturdy and durable tire rack systems are designed to maximize storage space while keeping tires safe and easily accessible. There are many different types of tire racks available, so you can find one that fits your needs and budget.
When choosing a tire rack, consider the tire sizes and how much floor and height space you have available. You'll also want to decide whether you want a freestanding or mounted rack. There are also tire racks on wheels that can be rolled from place to place, making them easy to move.
Tire rack storage systems can be customized to fit your specific requirements. Choose from a variety of sizes, configurations, and weight capacities to create a system that perfectly suits your space and inventory.
Features and Benefits of Tire Storage Racks
Constructed from durable steel pallet rack materials that are resistant to rust, corrosion, and other environmental factors
Engineered with a sturdy base to withstand heavy loads without tipping, and can be additionally reinforced by bolting the rack to the ground
Easily assembled and disassembled, and can be reconfigured whenever needed, especially when using a bolt-less teardrop pallet racking system
The number of configuration possibilities are limitless because they utilize both floor and vertical available space
Shelves can be adjusted to accommodate different tire sizes and different height levels
Allows for easy access and loading and unloading of tires
Advantages of Tire Racks
Tire rack pallet racks are affordable and come in a wide range of sizes to fit any space
Current unused pallet racks can be easily converted to tire storage. If you already have it, you can convert it!
Systems can be small or gigantic, and allows for future growth
Tire storage racks are designed for simple installation, saving time and money
Creates a safe and ergonomic working environment for employees and visitors/shoppers
Due to its heavy duty construction, tire racking protects tires from damage and deterioration
Tires can easily be organized, located, and can be personalized to address your unique specific needs
Need help choosing the right tire rack system? Our knowledgeable team of material handling professionals are here to assist you. From initial consultation to installation support, we'll work closely with you to ensure that you get the perfect solution for your tire storage needs.
We'd love to chat to see how we can help, so please give one of our Solutions Specialists a call if you're interested. They can be reached by phone or text at (320) 485-4974 or by filling out our online contact form.