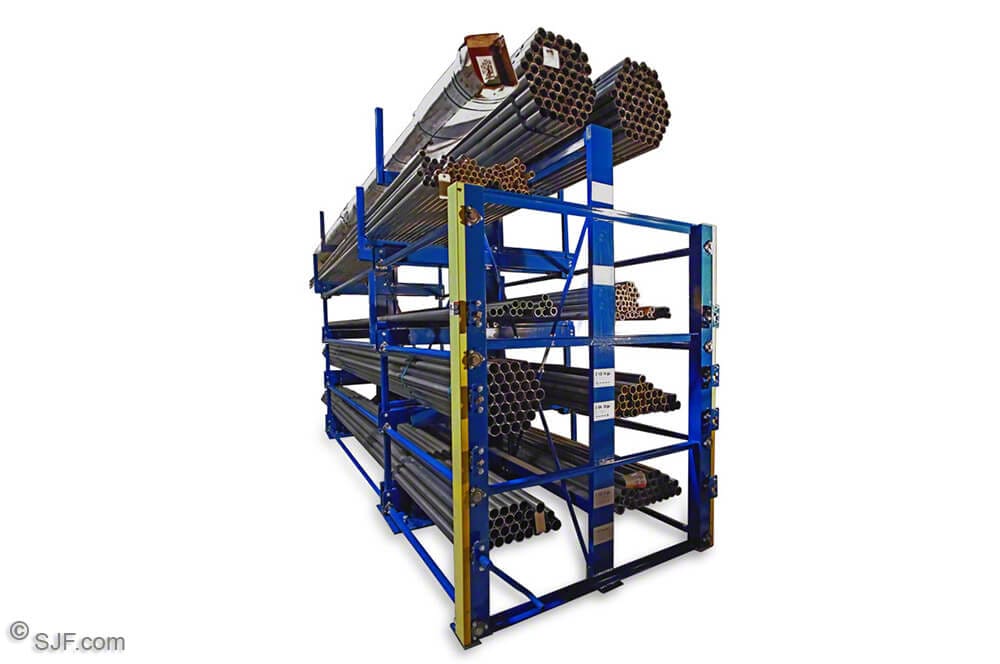 Crank-Out Cantilever Racking
Crank-Out Cantilever allows for easy overhead accessibility when storing and retrieving heavy bar stock, tube, pipe and more. With just a turn of a crank, the fully loaded arms extend all the way into the aisle for maximum loading and unloading ease of use.
Reduce:
Machine down time by placing a crank-out cantilever next to a saw, laser or other fabrication machinery
Man hours by eliminating a forklift driver when material change over is necessary
Aisle way space by being able to load and unload a crank-out cantilever with an overhead crane
Manufacturing floor space by utilizing vertical space and still gain access to multiple types of stock material
Potential injuries caused by man handling heavy stock material
Size examples:
4 levels, 20" arm depth, 12" arm height,105.5" overall height, 13,200 lb. capacity. double sided for 12' stock length
4 levels, 24" arm depth, 15" arm height, 120.5" overall height, 16,800 lb capacity, double sided for 40' stock length
Other sizes may be available
Click here to quick order from our Online Store or contact your SJF Sales Professional for immediate purchase.
Please call (320) 485-4974 (direct sales line), (800) 598-5532 (toll-free) or Email Us for pricing, availability and lead times. If you don't see what you're looking for, our sales specialists can often find it.
Pricing & availability subject to change without notice.