Important Update Regarding the Corona Virus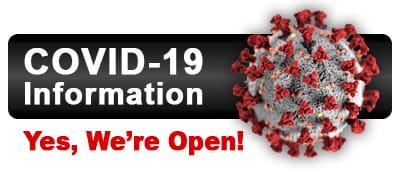 As the COVID-19 pandemic continues to grow, we at SJF Material Handling are committed to doing our part to help contain this virus. Our top priority is the health and well-being of our customers and employees, as well as our neighbors, families, and friends. We're very serious about doing everything in our power to help flatten the curve.
Like all businesses, we are continuing to adjust to our new temporary "normal" and would like to provide an update of our plans for the coming days and weeks.
Most importantly, SJF has been labeled as an "Essential Business" and will be remaining open and fully operational. As of the time of this writing, we have a full stock of products and sizes and are able to fully service the needs of our clients.
To our current and prospective customers, we take our commitment to you seriously and will do everything in our power to:
Provide clear and concise communication with you, our customer, during this transitional time. For many of our customers, this could be an ideal planning time.
Continue to stay in contact, provide service, and answer your questions.
Do our best to remain on schedule for current customers and deliveries.
Keep you regularly updated as to the status of all current orders and projects.
Work with you to make your planning process or delivery as seamless as possible.
We understand that there may be setbacks for many businesses due to this situation. We pledge to continue to be available to help you plan for changes you'd like to implement once our nation is back to normal again.
Currently we are and have been implementing some important safety modifications.
Office Hours & Info:
Office hours will continue to be Monday through Friday, 7 am to 5 pm Central time.
Yard and warehouse hours will continue to be Monday through Friday, 7 am to 3 pm Central time.
All phone lines will remain open as usual – (320) 485-4974 or (800) 598-5532.
Sales Staff:
Sales staff will be working remotely, with one or two salespeople in the office during operating hours for essential duties.
Our sales department will be available as usual for all calls, emails, request for quotes, etc. and will still have full access to our systems, just as if they were in the office.
All phone and computer systems will operate as usual. Likely, most people calling in will not be able to tell the difference.
Office & Staff:
Most of our office staff will be working remotely.
Our office staff will still have full access to our systems and are available just as if they were in the office.
Sanitation & Safety:
Have increased all sanitation practices for the building, done each night.
Have continued to implement good hygiene practices and non-contact for all employees and customers.
Continue to practice social distancing at all times.
We\re asking all customers/freight drivers to remain in their vehicles while loading.
Travel:
All non-essential travel has been restricted.
Visitors:
We have restricted on-site visitors to essential visits and by appointment only.
We plan to continue to service our customers while offering the same quality service that our customers expect and deserve from SJF. Thank you for your support, patience and understanding. We will continue to keep you updated as the situation continues.
Sincerely,

Frank & Stafford Sterner
Owners of SJF Material Handling Inc.
(320) 485-4974