Conveyors & Conveying Equipment
Alba Manufacturing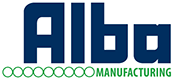 Reliability, service, innovation... These are pivotal principles that influence every aspect of Alba Manufacturing. Alba engineers, designs and manufactures quality products for 'round-the-clock, 24/7 operation. The harsher, more abusive and demanding the environment, the better - Alba Manufacturing thrives on challenges.
---
Flexible Material Handling

Flexible Material Handling has been manufacturing flexible extendable and telescopic conveyors (powered and gravity) for almost 40 years. Nestaflex brand products are among the most well-known flexible and multi-stage extendable truck loading and unloading conveyors in North America.
---
LEWCO

LEWCO, Inc. is a world-class manufacturer of industrial ovens and unit handling conveyor. Both product lines bring the LEWCO value proposition to market quality products, on-time and at a competitive price.
---
TGW Ermanco

TGW Logistics Group is a worldwide supplier of intelligent logistics solutions. TGW Ermanco supplies highly dynamic automated logistics solutions for warehousing, production, order picking, and distribution. TGW Ermanco's US headquarters is located in Spring Lake, Michigan.