Dock Seals vs. Dock Shelters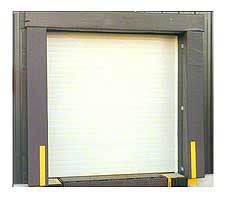 Which Do You Need? What's the Difference?
Dock seals provide an effective seal between the truck trailer and building wall and are the best choice when a tight seal is needed. Dock shelters are used on larger door openings. Shelters are also best for loading docks serving a variety of trailer sizes. They allow full access to trailer openings and, in many situations, will out-last dock seals. Either way, a dock seal or shelter can help you save money on energy costs.
Benefits of Dock Seals & Shelters
Save money on energy costs
Seals in warehouse heating and cooling - Energy saving pay back time can be less than a year
Reduce employee injury and absenteeism - Seal out wind, rain, ice and dust that cause employee illness and accidents
Reduce pilferage - Close the gap between truck and door, thereby eliminating easy access for theft
Prolong life of dock equipment - Seal out moisture, dust and elements that reduce equipment life