Overview of Dock Levelers Available Online from SJF
Mechanical Edge-of Dock Levelers
By far the most popular dock levelers on the market today, these edge of dock levelers attach to the edge of your truck dock and eliminate the need for a custom dug concrete pit. Available in 20,000 and 25,000 lb. capacities, these units are mechanically operated and come complete with dock bumpers.
---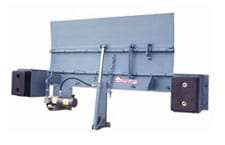 Hydraulic Edge-of Dock Levelers
Like the mechanical edge of dock levelers above, these hydraulic edge of dock levelers also attach to the edge of your truck dock and eliminate the need for a custom dug concrete pit. Unlike the mechanical models, however, these units are fully powered and operate with the simple push of a button.
---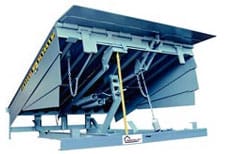 Mechanical Dock Levelers
Mechanical dock levelers are operated by hooking the lip and lifting until the tip of the lip clears the bed of the trailer. With an outward lifting motion the lip is extended and the leveler is lowered to the trailer. When the trailer departs the lip retracts behind the bumper face automatically. Units come complete with bumpers and lifting hook.
---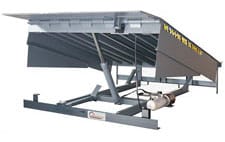 Electric Hydraulic Dock Levelers
Electric hydraulic dock levelers are the easiest leveler type to operate. After the truck is backed against the door, push and hold the control button. The ramp raises and the lip will extend and come to rest on the truck bed. When the truck departs the lip retracts behind the bumpers automatically. 30,000 pound capacity is standard on these units.
---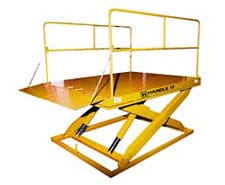 Elevating Docks
Elevating docks are in the same family as other dock levelers, however they offer a distinct advantage. With an elevating dock, you can move your dock to wherever you need it at random. These hydraulic operated units are great for schools, hospitals, or other semi-industrial locations where a dock is needed, but not on a daily basis. These units come complete with guard-rails to prevent loads from falling off the unit.