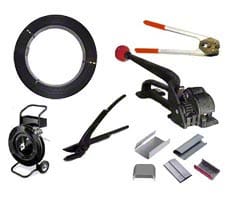 Why use strapping at all?
Strapping is used to secure bundles of product typically for shipping and storage. Strapping your inventory not only extends the life of the product by keeping it safe and protected during shipping or storage, but will also free up space by keeping like materials together in neat bundles for easy location and retrieval. Strapping together bundles of material is also a safety precaution when the materials are stored in racks. If you don't bundle your material, there is a chance that one or more pieces could fall from height and injure somebody.
How do I know what I need?
You can use the general guidelines below to assist you in choosing the right strapping for your application. Please note, these are only general recommendations - for additional assistance, please contact an SJF representative at (320) 485-4974 (direct sales line) or (800) 598-5532.
Rule of Thumb:
(Weight of Pallet x 1.5) / Number of Straps = Tensile Requirement of Strapping
Example:
Maximum pallet weight: 1,100 lbs. 3 straps applied
(1100 X 1.5) / 3 = minimum 550 lbs. tensile strength required
Note: The higher the pallet height and/or the heavier the pallet weight, the more important the need becomes for either a higher tensile strapping or more straps.
---
Steel Strapping
Steel Strapping is available online from SJF and comes in two tensile strengths: Regular Duty and High Tensile. Each has its own specific uses.
Regular Duty (RD): A low carbon steel strapping produced for low to medium duty applications, such as package reinforcement, unitizing, bundling palletizing and box closure.
High Tensile (HT): A high carbon steel strapping that is heat treated to produce a product which combines high strength and elongation (stretch) for shock resistance. Typical applications are unitizing compressed fiber bales, securing heavy steel coils and open top railcar and trailer loading. High Tensile strapping provides more footage per coil than heavy duty sizes of comparable break strength.
---
Polyester Strapping
Polyester strapping is the strongest plastic strapping material of the two (polyester vs. polypropylene). The highest initial tension can be applied and retained over a longer period of time compared to other plastic strapping materials. Polyester is also available in machine grade and is very easy to recycle.
---
Polypropylene Strapping
Polypropylene strapping is the most economical type of plastic strap and is adequate in many applications. It has a break strength up to 2,000 lbs. and comes in many different colors. This is used in many different forms of package reinforcement and often in conjunction with cardboard boxes.