Store Pallets Up to 10 Deep - How It Works
The Short Answer: Chains on Rails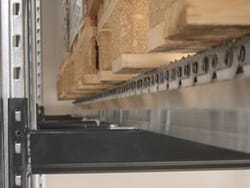 Placing Pallets:
This Exglobe pallet storage system is built around its revolutionary flow rail design. The heart of the flow rail system is a unique patented chain that slides on top of an aluminum track. The chain features a specially punched pattern that securely grips the bottom of most pallets.
Weight of existing pallets is dispersed evenly across the system allowing the pallets to float atop the flow rail. The chain and rail system evenly disperses each pallet's load weight within the storage lane while the Exglobe patented track design drastically reduces the friction normally associated with pushing and/or pulling existing pallet loads atop the track.
By minimizing friction and evenly dispersing the overall weight of pallets within the system, the inertia required to move the track and the pallet within the lane is drastically reduced. This allows the force of a single pallet in contact with the rail chain to provide enough force to move all pallets in a lane up to 10 pallets deep. When the first pallet is placed on the rails, the pallet simply rests on the chain at the front of the rails. As each successive pallet is placed on the rails, it pushes the ones behind it which makes the chain slide backward along the rails.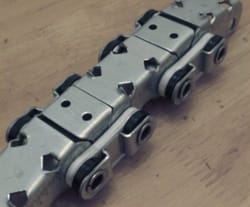 Removing Pallets:
As pallets are removed from the system, the pallet to be removed is pulled out of the rack by a fork truck. The lift truck keeps the front of the pallet resting on the chain so that the chain (and all of the remaining pallets) slide forward along the aluminum rails. In this manner, the maximum density flow rail allows the operator to pick pallets from the aisle as one does with push back rack systems. This reduces damage and increases productivity eliminating the need to drive into storage lanes to retrieve pallets as typically associated with traditional drive-in rack or drive-thru racking systems.
Perhaps the best way to visualize the placement and removal of pallets in this flow rack system is to view a few short videos.