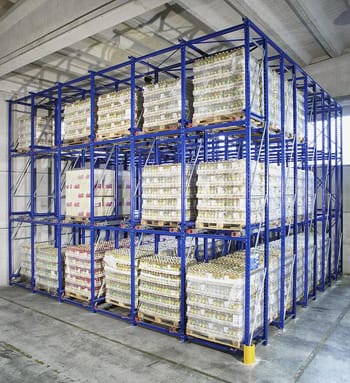 Introducing the next generation of high density pallet storage & retrieval technology...
High Density Pallet Rack Storage & Retrieval System
Easily store up to 10 pallet positions deep!
The new "High Density" pallet flow storage & retrieval system by Exglobe is designed to provide all of the benefits of traditional high-density pallet racking (drive-in, push-back, pallet flow) without the drawbacks associated with storing 6 or more pallet positions deep. The Exglobe systems not only can store 6 or more positions deep but we think it can do it more efficiently and for a lower cost per pallet position that than any other.
Exglobe Pallet Flow Rail System Benefits
Can be installed/retrofitted on most existing racks & drive-in rack systems
No power necessary - No motors to maintain or batteries to charge.
No incline necessary - Not gravity fed. No rail incline needed.
Can be operated with a fork truck to store & retrieve pallets
Rails are horizontal - Not angled or gravity fed
No flow rail brakes to adjust or troubleshoot
Each lane can hold a different product SKU
Rail is maintenance free and rust proof!
Can be used in low temperature environments
Easy to modify track length
As you can see - this high density pallet flow rack storage is specifically designed for those looking for a deep pallet rack storage system that will maximize storage space and reduce maintenance costs.
Keep up with this product's development, including exclusive prototypes, development notes, photos, videos and more on our blog.