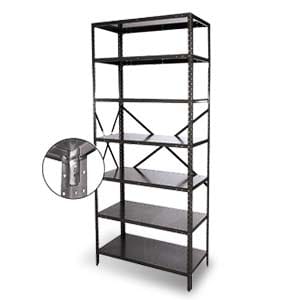 Steel shelving (also known as clip shelving) is one of the most ubiquitous storage products on the market. This shelving is a simple yet effective storage solution for light to medium weight loads and can be reconfigured and moved around very easily. You'll find this shelving solution in warehouses, offices, garages and backrooms across the world.
This shelving utilizes clips to connect the individual shelves to the uprights. The clips slip into holes in the uprights to provide support for the shelves.
Unfortunately, because it is such a popular storage solution, there are many different clip styles and clip types that must match to assemble a working shelf unit. In other words, not all clip shelving is interchangeable.