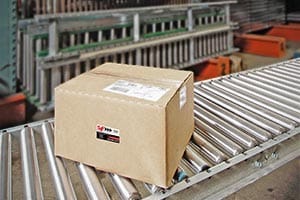 Conveyors and conveyor systems are used to move products and materials along the supply chain from one location to another. Conveyors and conveyor systems are commonplace in North American warehouses, including manufacturing assembly lines and production lines.
As an integral part of modern material handling, industrial conveyor systems add both efficiency and safety. Where manual product transportation was time-consuming and hazardous to employees in the past, using today's conveyor systems allows for fast and safe material movement, saving time, money and keeping employees safer.
Heavy duty industrial conveyors used in conveyor automation include live roller, belt driven live roller and zero pressure and offer flexible solutions for warehouse environments.
Conveyor systems operate using:
Gravity
Power
Or both gravity and powered conveyor in combination
They offer an unlimited amount of flexibility. Many types of conveyor are available and can be customized to the specific needs of each individual company. See our Gravity Conveyor Guide for more information on gravity conveyor or see our Powered Conveyor Guide for information on powered conveyors. For more information on sortation conveyors, see our Sortation Conveyor Guide.