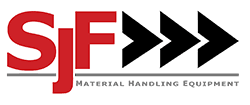 At SJF we stock over 3 miles of new and used conveyors available for sale Nationwide. All our new & used conveyors are meticulously cared for and stored in modern indoor climate controlled warehouses. In business since 1979, SJF Material Handling (Winsted, MN 55395) has long been a "go-to" nationwide resource for all makes, models and sizes of gravity roller conveyor & power roller and belted conveyors as well as sortation systems and accessories. SJF stocks everything from hard to find parts & accessories as well as complete automated conveyor systems and automated software solutions. We stock all major brands of conveyors. Conveyor brands stocked include: Hytrol, Rapistan, Demag, Lewco, Omni, Seimens Damatic, TWG Ermanco, Buschman, Litton, Stewart Glapat, Bestflex, Nesta-Flex, Speedways, Metzgar, Roach, Automotion, Stainless Kings, and ASI...just to name a few.
Have a limited or tight budget right now? SJF's refurbished conveyors offer the features and functionality of new conveyor but is often priced 30-80% less!
Whether you are in the market for new, used or refurbished conveyors, give us a call. SJF's team of conveyor specialists are anxious to work with you. They are real pro's at assisting you with finding the equipment you need at a price you can afford. They can assist you with everything you need to make your conveyor purchasing experience a good one. They will cover everything you need to get the job done. They can help with the different options available, provide engineering and controls support and even make arrangements to install and test run the conveyor to provide you a true turn-key conveyor solution for your business.