Info, Tutorials and How To Guides
Guest Post: The Many Faces of Forklifts
August 7, 2018
Posted By:

Denise Rosenau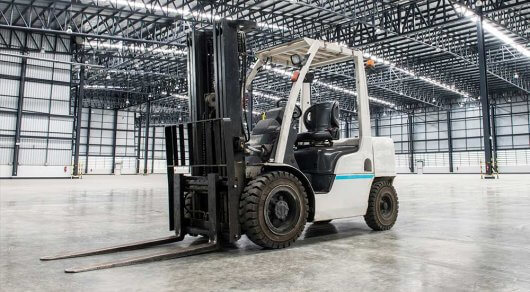 Today's post is courtesy of Sena Jazz
Cost Figures

Forklifts are considered to be one of the most essential equipment in warehouses and construction sites. These machines were believed to have come and evolved from the hoists; an equipment used to lift heavy stuff during the 1800's.
The innovation of forklifts stemmed from the need to minimize manual labor. During World War I, numerous men were drafted to become part of the war efforts, leaving behind the women and men (at least, some who were not strong, healthy, or "qualified" enough to be drafted to the army) to become laborers in their hometown and keep the economy up and running.
Because of the lack of manpower, people tried to find ways to make the jobs easier; including the transport of heavy items from one space to another. Suddenly, hoists were enough to cover the tasks involved.
Not much has changed from the advantages that forklifts offer. They do, however, continue to evolve in order to satisfy the needs of the market. From the first counterbalanced truck that the Clark company introduced in 1917, there are now over fifteen types of forklifts that can do numerous jobs; carry larger and heavier loads and navigate aisles and different types of terrain more easily. In this article, we will discuss a few of them.
Types of Forklifts and their Uses
Electrical forklifts
They are the simplest and most suitable forklifts to be used indoors. Because they use electricity instead of diesel or LPG, no smoke is emitted and little noise can be heard from the engine. They're safe to use by workers, plus they're eco-friendly.
Load capacity may go from 8,000 to as much as 35,000 pounds depending on the model. The disadvantage when using these forklifts is that you may need to set up charging stations within the building. That means there is less space for your cargo.
Also, constantly carrying heavy loads mean more frequent charging time and this can go from 8 hours to practically overnight.
Internal combustion forklifts
Internal combustion or industrial counterbalance (IC) forklift trucks can be used both indoors and outdoors, making them the most common machine to be used in various factories and warehouses.
Unlike electrical forklifts, they are powered either by gasoline, diesel, natural gas or LPG. The engine and battery are placed at the back where the seat is placed to "counterbalance" the weight that will be carried by the two forks at the front of the truck.
Some manufacturers have created IC forklifts that can carry 5,000 to 15,000 pounds. If you want to buy one of these, make sure to avoid exceeding the load capacity since the counterbalance at the back is designed to only have that much weight.
Accidents that happen in IC trucks and forklifts, in general, are usually caused by instability. In fact, it is the leading cause of forklift-related deaths. Carbon monoxide poisoning may be a problem as well.
Order pickers
Order picker forklifts are created to carry an operator and pick up items from high spaces of up to 35 feet. That's right, their range of motion only includes up or down.
The operator can control them using the buttons attached at the side of the platform which is around 7 3/4 inches in length. Most models can carry a weight of up to 3,000 pounds.
Reach trucks
The reach truck is a more sophisticated and full-range-motion version of the order pickers. Aside from picking the cargo from extremely high places, it can go deeper and all the way to the back of the shelf just to reach the package.
Reach trucks are known for the right angle position of the lifts and forks in front of the equipment. These forks can carry about 2,500 to 5,500 pounds and the lift can go as high as 30 feet.
Aerial lifts
Aerial lifts are considered to be the most exciting to be used by any operator. Plus, they're probably the most familiar since most celebrities use them in concerts and performances.
To maneuver them, the operator will go inside a "man basket" where the controls are placed, and he or she can move the man basket in whatever direction he or she may please.
Aerial lift is an umbrella term for all kinds of lifts available in the market today; including the personnel lifts and scissor lifts which would be discussed below.
Personnel lifts
This type of aerial lift is the simplest and most compact of them all. The "man basket" is only measuring 3-5 feet wide and 5 feet long. It can carry about 200 to 400 pounds and can go up to 50 feet.
Personnel lifts can be used in areas where space is a precious commodity because it is tinier and lighter than other types of aerial lifts.
Scissor lifts
This kind of aerial lift system can only go up and down. Despite this, scissor lifts are ideal for heavy-duty lifting and construction work. The platform is as large as the base part and it can carry as much as 1,000 pounds in one go.
Scissor lifts have models that can rise up from 20 to 60 feet.
Pallet jacks
These forklifts are stroller-like pieces of equipment that are used exclusively for transport of freight from point A to point B. The simplest pallet jacks are composed of a long handle that is connected to two large forks and wheels.
Decent models can carry 1,000 to 15,000 pounds in one trip. As for the power supply, the pushing and pulling heavily relies on the locomotion strength of the operator-Yes, they are maneuvered manually. Using manual pallet jacks can easily tire out employees. That is why most companies use motorized versions instead.
Rider pallet trucks
Another option you can have if you don't want employees who get fatigued by pulling the pallet jack is to purchase or rent rider pallet trucks as an alternative. It also has the same general features as the pallet jack. The difference is that the operator can ride at the back during the trip.
Most of the models of rider pallet trucks in the market are powered by electricity which means that they cannot be forced to go faster than if it is diesel-powered. Still, that is faster than walking. These trucks can carry at least 2,500 pounds.
Cushion tire forklifts
Aside from their uses, forklifts can also be categorized based on the tires attached to them. There are two types: cushion tire forklifts and pneumatic tire forklifts.
The cushion tires are used to handle smooth, even terrain – both indoors and outdoors. Caution must be used, however, if you plan to use cushion tire forklifts outdoors regardless of how smooth the surface is since these tires could not handle as much friction as that of pneumatic tires.
Cushion tires are especially advantageous when used indoors because they are easier to maneuver and tilt in any direction. They can be attached to electric and IC forklifts, reach trucks, or any forklifts that you might want to use indoors.
Pneumatic tire forklifts
Forklifts with pneumatic tires, on the other hand, can also be used both indoors and outdoors. However, they are more advantageous to use in rugged terrains like the mountainside, construction site, and lumber yards.
Pneumatic tires have two types: solid pneumatics – a tire which is made of 100% rubber, making them more enduring on sharp rocks, nails, and crevices; while air pneumatics – a tire made of layered rubber then filled with air inside.
Solid pneumatic tires may be more durable than air pneumatic tires. The disadvantage, however, is that the ride is bumpier and harder because it is made of compact materials that cannot stay put on the ground. If you want smoother rides, opt for air pneumatic tires.
Narrow aisle forklifts
Most forklifts are bulky, large, and difficult to maneuver across the aisles. Not to mention that they take up more space when stored. In the long run, keeping a large batch of forklifts is not practical since the space they cover can be used for other things instead.
That is why manufacturers built a lighter, more compact versions of the forklift. Narrow aisle forklifts offer the same benefits of the standard forklift without compromising storage and moving space. They can carry 3,000 to 12,000 pounds and can reach up to 31 feet depending on the model.
High-capacity forklifts
These forklifts are specifically made for loads that are 3, 4, or even 8 times heavier than the forklift itself. Most models can lift and transport freights that weigh between 19,000 to as much as 105,000 pounds!
High-capacity forklifts are especially useful in lumberyards, where even just one large and old tree trunk can weigh a dozen tons. But they can be used in general manufacturing and warehouse storage, too.
Rough terrain forklifts
These forklifts are specifically created for roads that are treacherous and steep. The weight capacity it can carry is virtually limitless since the pneumatic tires can handle the pressure.
Rough terrain forklifts are ideal to use in construction sites, ranches, farms, lumber yards, mining sites, and other outdoor projects.
Container handlers
Container handlers are able to carry and transport as much as 52 tonnes of freight in one go. They are especially used in loading docks and bays. Some models have claw-like pickers to secure the cargo while putting it down or transferring it while others use huge platforms to "sandwich" the load.
Sideloaders
A standard electric or IC forklift needs to be maneuvered carefully to the left or right in order to transfer the cargo from the forks to the shelves. This can be troublesome and disadvantageous especially if you have very limited aisle space.
Sideloaders eliminate this problem by placing the forks on the side of the equipment rather than at the front. That way, you can easily lift and transfer the cargo without having to move the front part of the forklift in order to face the shelves.
They are cost-efficient not only because of the little space required to store and use them but also because the less maneuverability of the equipment equates to less energy used to operate.
Forklifts on the Market
Forklifts, no matter the size, type, and weight capacity, do not come cheap. Above average forklifts with standard features can already cost you $20,000 to $50,000 depending on the brand.
If you don't plan on using the forklift long-term, you have the option to rent one instead. There are forklift rental services scattered across the US. You can surely find one near you.