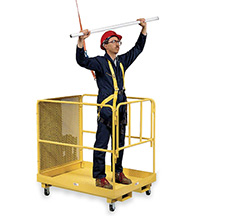 Forklift work platforms are an easy way to reach high places without resorting to a dedicated man lift table or truck. These platforms simply slide onto a forklift's forks and one person operates the lift while the other is raised in the platform.
SJF carries two main types of lift platform, the standard maintenance forklift platform and a narrow aisle platform, which is good for smaller spaces. Both have their own individual benefits and drawbacks, but both are guaranteed safe and fully functional.
Maintenance Forklift Platforms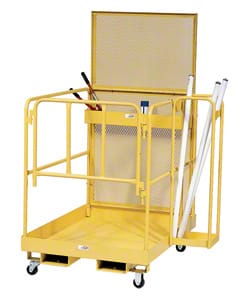 These maintenance forklift platforms are used with a forklift to reach high places safely. They are available in four different sizes with a height of 45". Maintenance platforms conform to ANSI standards. Optional platform accessories may be purchased for use with the platform.
Optional Accessories Include:
3" casters for mobility
Tool trays to keep parts and tools at worker's fingertips
24" high bolt-on riser screens
Tube and bulb caddy to contain long parts requiring on-end storage
Features & Benefits:
Non-slip floor plate deck
Side rails are 42" high
Metal screen separates worker from vehicle
Casters provide 1,000 lbs. Capacity and increase overall height of unit by 4-½"
Yellow enamel finish
Ships knocked down - easy to assemble
---
Narrow Aisle Platforms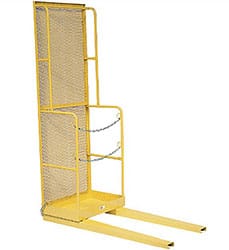 This forklift stock picker accommodates pallets to 42" deep and in conjunction with a forklift truck can be used as an aerial stock picker.
Features & Benefits:
A mast chain secures the stock picker to the forklift
4" toe plate surrounds the non-slip deck
Yellow enamel finish
Ships knocked down - easy assembly